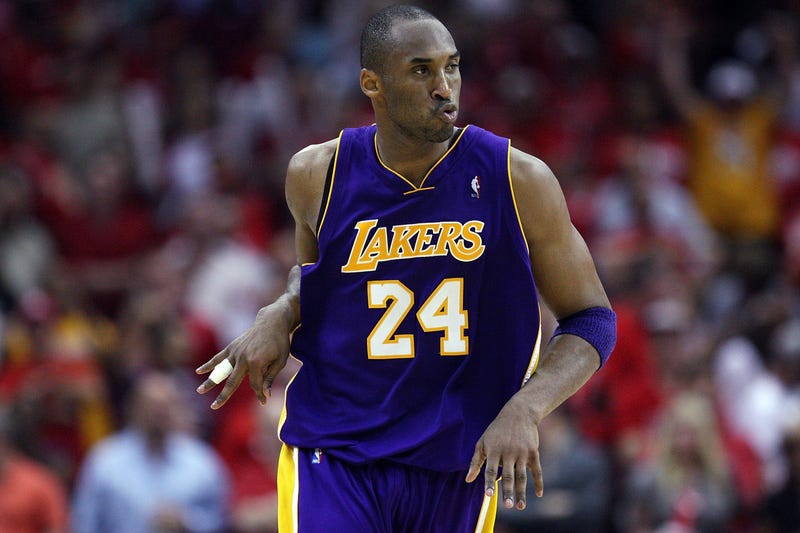 I've never been a Kobe Bryant fan. Maybe it's because I'm still getting over the Lakers 4-1 deafening defeat of my mainstay, the Philadelphia 76ers in the 2001 NBA finals. Maybe I just don't like his particular blue-chip swagger. Of his generation of athletes, I have always appreciated Serena Williams' extroverted braininess, Donovan McNabb's self-composure, and of course, Allen Iverson's blue–collar, rumble-in-the-jungle plays. Most certainly it's because I never got over those sexual assault charges.  
But I have to hand it to Spike Lee. For about 90 minutes last weekend, as I watched his documentary, Kobe: Doin' Work—which aired on ESPN Saturday and was released on DVD on Tuesday—I got sucked into the hype.  
The conceit for the project, as described by Lee, is: "one great player, one day, on the job." Filmed during a Lakers game against the San Antonio Spurs during the end of the 2007-2008 regular season, Lee captures all things Kobe with 30 cameras, the images mixed with real-time floor commentary and a post-game voiceover. As a result of this cinematic mixture, Lee not only gives the audience the game as Kobe sees it, but also gives us unprecedented access to the game as Kobe thinks it.  
Bryant's voiceover reveals certain unfamiliar insights about his defensive ability, his ignorance about how much talking he does on the court, his multilingual trash talking with his Slovene teammate, Sasha Vujacic; his shooting irregularities, his unabashed respect for San Antonio players Manu Ginobili and Bruce Bowen. By relying so much on Bryant's analysis, Kobe feels like we are in the locker room with him, studying film, rather than watching greatness. 
On one hand, Lee's commitment to basketball purity is admirable. Other than one of the opening scenes in which Kobe is watching CNN ask Hillary Clinton about Barack Obama's "bitter" comments during last year's Democratic primaries, the game is suspended in time. That one game becomes every game. That one night becomes every night Bryant is on court.  
Through the intimate nature of Bryant's narration about why he does or does not take a particular shot, his translation of the Lakers' silent on-court communication and his eloquence about ball rotation, we literally learn how to see the game differently. We feel the rhythmic minutiae of basketball. Pedestrian. Laborious. Repetitive. Less pomp and circumstance, more fast breaks and fatigue.   
As engaging as Lee's approach is, the documentary reveals little about how Bryant views anything other than basketball.  Unlike Zidane: A 21st Century Portrait, the 2006 film on the soccer great which inspired Lee to make Kobe: Doin' Work, the singular focus of Bryant's voiceover does not allow for glimpses into the prodigy's development, either as a player or as a person.  
The film closes with Bryant, his wife, Vanessa, and their two daughters returning home after the game. The scene of domestic tranquility conjures up opposing memories of the chaos surrounding the sexual assault charges brought against Bryant in 2003. Unlike Marina Zenovich's Roman Polanski: Wanted and Desired and James Toback's Tyson, Lee's documentary is uninterested in exploring the tensions between sexual violence, male privilege and fame. The film is unwilling to ask what demons haunt and yes, constitute Bryant's genius, what past he so desperately wants to remake. By removing context and conflict, Lee's film assumes that the only greatness that matters is Bryant's intellectual and physical dexterity on the court.  
In the real world, character, charisma and depth are considered virtuous traits. But, if you'd like to forget about those things for 90 minutes, one night of Bryant's eloquent play and Lee's engrossed directing redefines how you experience the beautiful game of basketball.   
Salamishah Tillet is an assistant professor of English at the University of Pennsylvania and co-founder of the non-profit organization, A Long Walk Home, Inc., which uses art therapy and the visual and performing arts to document and to end violence against underserved women and children.
Salamishah Tillet is a rape survivor and co-founder of A Long Walk Home, a nonprofit that uses art to end violence against girls and women. She is also an associate professor of English studies at the University of Pennsylvania and the author of Sites of Slavery: Citizenship, Racial Democracy, and the Post-Civil Rights Imagination. She is working on a book about civil rights icon Nina Simone.