Gospel music may have saved little Willie Myrick's life.
Earlier in April the then-9-year-old was in his front yard in Atlanta when he bent down to pick up some money. At that point someone snatched him up and threw him into the back of a car, WXIA reports.
According to Willie, his abductor told him that he didn't want to hear a word from the young boy as he drove away. So Willie didn't speak—but he sang.
He sang the gospel song "Every Praise," by Hezekiah Walker, for three hours—even though his kidnapper told him to shut up—until the older man finally tossed him out of the vehicle.
"He opened the door and threw me out," Myrick told the Atlanta TV station. "He told me not to tell anyone."
Willie then booked it to the nearest house, Fox News Insider notes, and asked someone there to call his guardian. He was picked up by the police and escorted safely home. 
G/O Media may get a commission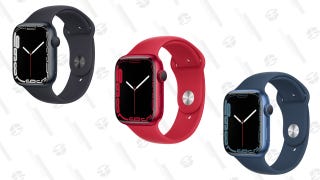 Up To $45 Off
Apple Watch Series 7
Willie's happy story didn't end there. News of his gospel-fueled escape reached the original singer of the song, and Walker was moved by the young boy's experience.
"It's just emotional to me because you never know who you're going to touch," the artist told the station. And so he flew out to Atlanta to meet the young boy who'd found hope and courage in one of his songs.
"I just wanted to hug him and tell him I love him," Walker added.
Walker surprised Willie—who started crying—at church on his 10th birthday, and then the two of them led the church in a rendition of the lifesaving song.
"I really believe that God spoke through me to save that young man's life," Walker said.
Unfortunately, according to WXIA, Willie's kidnapper is still free. Police are looking for clues and have released a sketch of the subject.
Read more at WXIA and Fox News Insider.