If the White Nationalist House of Pancakes plans on inviting the championship Golden State Warriors to come and see where evil lives, then they can skip the e-vite for Kevin Durant because he ain't going.

"Nah, I won't do that," Durant said Thursday of a potential visit, according to ESPN's Chris Haynes. "I don't respect who's in office right now."
While the NBA Finals MVP doesn't speak for the whole team, it's been reported that the whole team agrees with Durant, and as such, just like the kid in middle school who doesn't have any friends and doesn't want a birthday party because then his parents will know that he doesn't have any friends, the White House hasn't issued an invitation to the 2o17 NBA champs.
"I don't agree with what he agrees with, so my voice is going to be heard by not doing that," the 28-year-old said, according to Bleacher Report. "That's just me personally, but if I know my guys well enough, they'll all agree with me."
"That's how it's supposed to be. We don't fuck with him," he said of the president, TMZ Sports reports.

G/O Media may get a commission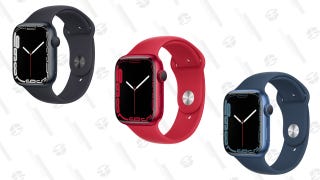 Up To $45 Off
Apple Watch Series 7
Head coach Steve Kerr has been vocal about his dislike for Trump, calling him "ill-suited" for office, according to Sports Illustrated.