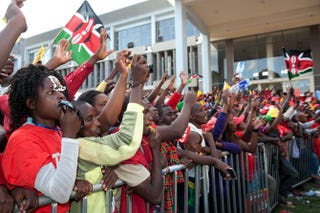 One Kenyan member of Parliament is encouraging women to withhold sex from their husbands in an odd bid to encourage the men to register to vote in the 2017 general elections, Newsweek reports. 
Esther Murugi, the M.P. for Nyeri Town, is also encouraging women not to cook for their husbands, and even encouraged pastors not to welcome their congregants unless they can prove that they are registered voters, the site notes.
Elections are scheduled to be held in August 2017, with at least 22 million voters expected to decide whether to re-elect incumbent President Uhuru Kenyatta. However, despite the largest-ever turnout at the last general election in 2013, at 86 percent, Newsweek notes that Kenya's electoral body has continually been frustrated by the poor showing of Kenyans signing up to vote since a registration drive was started earlier in February.
According to the report, only 6 percent of the targeted new voters have registered in the country's Nyeri, Kirinyaga and Nyandarua counties. 
Read more at Newsweek.