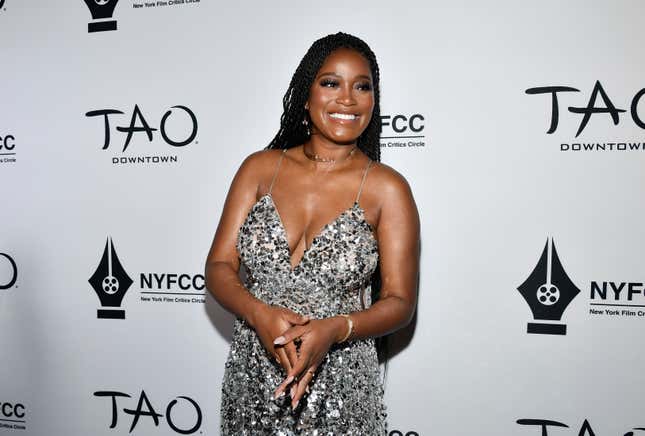 Keke Palmer is saying something every new mother should hear. I only wish she'd said it 13 years ago for my benefit. The actress, who gave birth to her first child in February, recently told PEOPLE she believes moms should give themselves some grace when it comes to their post-baby body, and I, for one, am here for it.

Comedian and Blockbuster Star, J.B. Smoove, Plays That's So Random
"There's always this thing of, 'How'd they do it?' And I think for me, the main thing I would say to any new mom is do what you can when you can, whatever it is that makes you feel good," Palmer told PEOPLE in an April 26 interview. "If it's important to you, then hell yeah put in the work miss girl. Get you whatever diet you want to do or whatever workout regimen that works for you. And if that's not what you're worried about, then don't worry about it."
For someone who did worry about it way too much, Palmer's words go a long way. When I was pregnant with my oldest child, I was consumed with the snap back. One of the things that got me through those months of nausea and heartburn (besides meeting my beautiful daughter, of course) was the thought of squeezing back into my skinny jeans. After months of barely seeing my toes, I was dying for my body to return to some semblance of normalcy. I'd seen celeb moms like Halle Berry bounce back flawlessly (a girl can dream, right?). But when I realized one month after giving birth that I was still nowhere close to my pre-baby weight, I felt defeated.
But as the Nope actress told PEOPLE, one of the most dangerous things new moms can do is compare themselves with Hollywood mamas and set unrealistic goals for shedding their post-pregnancy pounds.
"Anytime you see a celebrity doing a snap back or whatever like that, it's part of the damn gig," she says. "A part of our jobs is to look good and to look the part. So don't think it's this thing where it's like, 'We doing it because we got it like that.' No, the job is on the line. If we want the checks to get signed, we got to be what we got to be."
Unfortunately, it took another pregnancy and almost a decade to accept (and embrace) my new figure. But if I'd had more voices like Palmer's, instead of my own crazy thoughts in my head, the postpartum road might have been a whole lot easier. My 40-year-old self understands that your body will change when you have children and when you get older. And it is a beautiful thing.
Palmer says she's on her own personal journey with her feelings about her appearance. But she has decided to do whatever makes her feel happy.
"If I feel like I need to hold it back and I need to do a little bit more work, or [if] I want to feel better about myself, I just do it," she says. "Other times I'm like, 'Yo, pull up in the drive-through. I want the number five, large.' You know what I mean? I do what I feel when I need to, because sometimes taking it easy, that is what you need."