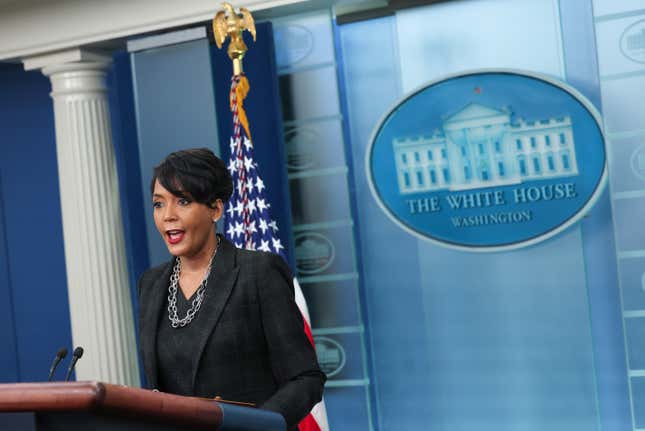 We're just over two years into the Biden administration, and I have to say, not having to write about someone leaving the White House every day has been refreshing. (Yes, this is Trump administration shade).
The Best Man: The Final Chapters Is Our TV Pick This Week
But today is one of those days we have to write a little post-White House send-off. In an interview with the Atlanta Journal-Constitution, Former Atlanta Mayor Keisha Lance Bottoms announced she was leaving the White House.
Bottoms was serving in a temporary position as a senior adviser and Director of Public Engagement. She joined the team temporarily last summer to replace former Louisiana Congressman Cedric Richmond. In turn; she's being replaced by the former Mayor of Columbia, South Carolina, Steven Benjamin.
It looks like everyone is parting on good terms.
"I was proud to bring a different voice and a different face to the White House: A voice from the South, an African-American woman in this White House. It was extraordinary," Bottoms told the Atlanta Journal-Constitution. "Sitting across from the president in the Oval Office, he knew that whatever my response was, I was speaking for so many people."
Biden also had kind words about Bottoms' time in the position.
"I have leaned on Keisha as a close advisor with exceptional instincts, and I am grateful to her for serving our nation with honor and integrity," Biden said. "I wish her the best as she returns home to Atlanta to be with her family."
So why is she heading out? Well, the temporary part of the title should probably give some hints. But it's also for super-relatable reasons: namely, wanting to spend more time in Georgia with her family.
"It's time for me to get back home, get back to my family, and focus on the future. This is a time for me to rest and reevaluate and determine what's next," she told the Atlanta Journal-Constitution.
As far as whether we'll see her in politics again, the former Mayor said not to count her out just yet.
"Never say never. I said that when I left the Mayor's office. Stay tuned," Bottoms told the Atlanta Journal-Constitution.