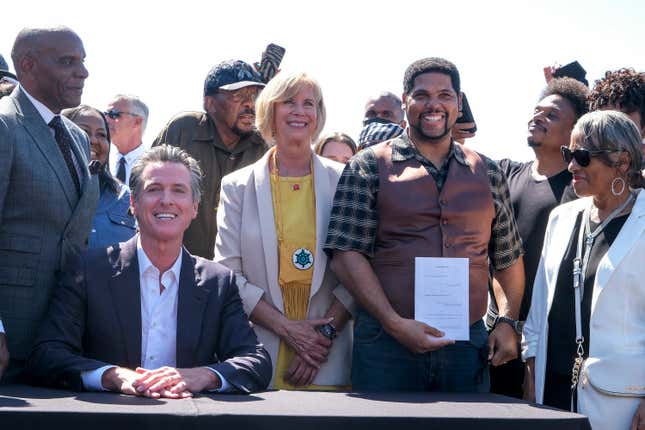 In a surprising turn of events, the Bruce family has decided to sell the beachfront property they'd recently reclaimed back to the California county that had seized it, per the Los Angeles Times. Charles and Willa Bruce were driven out of their resort by the Klu Klux Klan and racist real estate agents in 1924. Now, their descendants are rightfully banking the beach's profits.

Kevin Johnson Executed By State of Missouri After Supreme Court Denies Appeal
The report says the return of the Bruce Beach property to the descendants of its owners is the first time the government returned land while acknowledging it was stolen to begin with. The Bruce family had created an organization, refueling the fight to reclaim the land back in 2006. Upon California's recent interest in granting reparations to its Black residents, the Bruce family had another opportunity to make their demands heard.
As a result, legislators passed SB 796 in February of 2021, granting the state permission to transfer the property back to the family. According to LAist, the property was estimated to be worth $75 million. However, upon the transfer agreement, LA County agreed to buy it back for just a third of that price: $20 million.
One must wonder, why sell back the land you fought so hard to get back?
Read more about it from the Los Angeles Times:
Attorney George Fatheree, who represents the family, said in an interview the sale was not unexpected and the family had always wanted to have the option to sell the property back to the county. He emphasized the sale was still a victory for the Bruce descendants, who would no longer have the land their grandparents were robbed of but instead the money they should have inherited.

"What was stolen from the family was the property, but what the property represented was the ability to create and preserve and group and pass down generational wealth. And by allowing the family now to have certainty in selling this property to the county, taking the proceeds of that sale, and investing it in their own futures — that's restoring some of what the family lost," Fatheree said. "I think we all need to respect the family's decision to know what's in its best interest."
County Board of Supervisors Chair Janice Hahn said this transaction allows the Bruce family to build the generational wealth they were denied, per a statement.
"This is what reparations look like and it is a model that I hope governments across the country will follow," said Hahn.
Maybe that's the answer. Accountability from the government, a bill granting the return of seized property - the process of Bruce's Beach being returned is a milestone in modern history. The Bruce's proved what may have looked like a hopeless operation was possible.