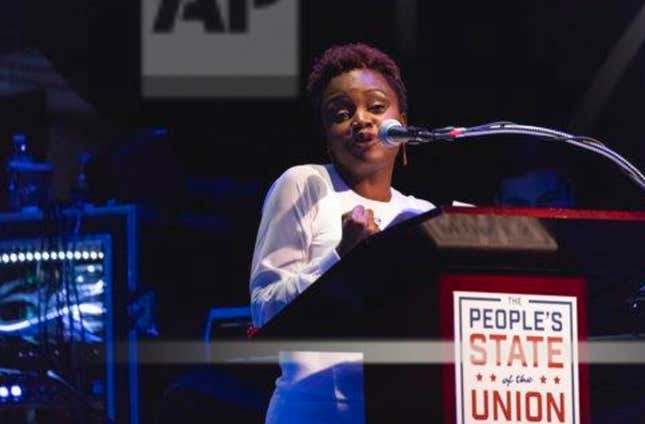 There's been a lot of speculation as to whether Democratic presidential candidate Joe Biden will pick a black woman to be his running mate in the upcoming 2020 election. Well, there still aren't any definitive answers as to who his vice president pick will be, but in the meantime, Biden has chosen another black woman as a senior adviser for his presidential campaign.
America's Got Talent Host, Terry Crews, Shows Full Gratitude For Writers On Strike
The Washington Post reports that veteran political strategist and MSNBC political analyst Karine Jean-Pierre will start next week in advising the presumptive Democratic nominee on strategy and how to engage black voters as well as women and progressives.
You might remember Jean-Pierre from the time she stepped between Sen. Kamala Harris and some protestor who walked his entitled ass on stage and snatched Harris' microphone while she was speaking at a forum. Jean-Pierre—who was a 2019 Root 100 honoree—served as a regional political director in both of former President Barack Obama's presidential election campaigns.
In fact, Obama's senior campaign adviser, Valerie Jarrett, lauded Jean-Pierre as a "superstar" and said she'll be an asset in helping Biden's message "resonate importantly with African American women, but also with the entire country," according to the Post.

"This really is the most important general election in generations," Jean-Pierre told non-profit news organization The 19th. "I've known Joe Biden for 10 years now. I believe he's a man of integrity, he's a man who knows how to lead, he's a man who knows how to use the levers of government to help people and he's the man who could beat Donald Trump in November. For me, as a black woman, I just could not sit this out."

Jean-Pierre also made it clear that black women are a large part of how Biden got this far in the first place.

"Black voters, black women, have helped him get to this point," she said. "When everybody was counting him out, black voters spoke out. I am so proud and excited as a black woman watching how black women have exerted their power. We had to say loud and clear this [the Trump administration] is not okay."

Biden must know well how much his campaign stands to gain from employing women of color because he announced Tuesday that he also hired former Obama administration political director Julie Chavez Rodriguez as a senior adviser.