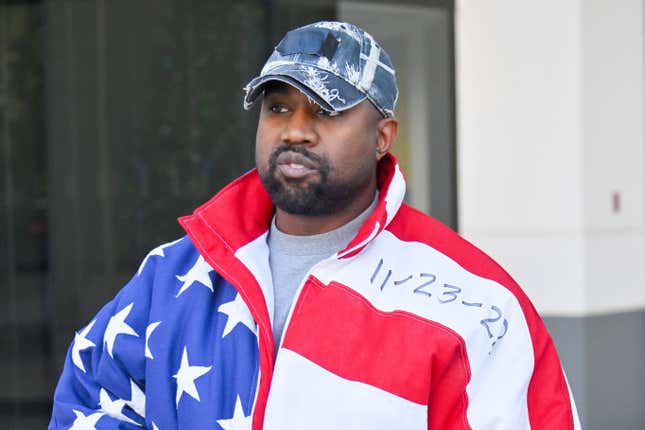 Kanye West may have been lying low as of late but it looks like that tide is about to change thanks to a new wrongful termination suit filed on Thursday against him and three directors of his controversial Southern California private Christian school, Donda Academy.

Handmade Eyelashes by Black-Owned Minx + Mane Is Our Swag of the Week
Per a press release sent to The Root, former DA employees Cecilia Hailey and her daughter Chekarey Byers allege that they were let go from their positions as teachers last month "in retaliation for reporting code violations" and that they were "discriminated against based on their race and illegally had wages withheld or were repeatedly improperly paid." Prior to their firing, Hailey had been working for the school since 2022, while Byers was recently brought on back in January of this year.
The code violations the two women claim were present include teachers not being trained to provide basic life support, no appropriate disciplinary procedures which led to numerous instances of assaults and bullying that went unaddressed, no janitorial services or nurse on staff, the refusal to follow nutritional guidelines, and no security system in place, which allowed students to be picked up by strangers.
They also allege that the school was "not following state regulations for students in need of educational services, additional testing, or individualized learning plans" and keeping medicines for students in an unorganized manner and mixed up with other expired medicines. Additionally, the former teachers also claim that West implemented other weird rules for the school such as:
Not allowing crossword puzzles or artwork to be hung on walls
No kids on the second floor because he was "reportedly afraid of stairs"
No use of forks and utensils for lunch
No wearing jewelry
No chairs or tables for kids (they instead have to sit on foam floor cushions) and only one meal a day of sushi
No inside locks, which forced faculty, staff and students to stay indoors, making it a fire hazard
Both former employees, the only Black women who were working at the school, said that when they brought the complaints and violations up to upper management, they were met with pushback and called "aggressive," and no action was taken to rectify the situation. They also maintain that they were retaliated against due to their complaints, allege racial discrimination, and that their checks were either untimely and/or inaccurate.
Hailey and Byers' attorney Ron Zambrano said in a statement:
"Kanye West is clearly as bad at running a school as he is at managing his own personal and professional life, enabling an unsafe and illegal school environment for students that also discriminated against the plaintiffs based on their race. These egregious violations at Donda Academy are just another example of West's unusual behavior, and our clients just won't stand for it, no matter his celebrity status. Kanye needs to realize his genius is in creating music, not in school administration."
Added Hailey, "We're standing up because it's the right thing to do. This is not about trying to defame a celebrity. This is about the right thing to do for these children."
"I'm extremely sad about all of this. It was such a huge honor and privilege to work at Donda Academy for Kanye West. I'm a huge Kanye fan. His first album was the first I ever purchased," Byers also said in a statement. "I still enjoy his music, and I'll never deny his talent, but while his vision for the school sounds great on paper, it's just pure chaos and mutiny. It's like a mental hospital being run by the patients."