Looks like those "California girls" (in this case elected officials) continue to tell it like it t-i-s.

Like her colleague Rep. Maxine Waters, Sen. Kamala Harris had some direct words for President Donald Trump and his proposed border wall between the United States and Mexico, calling it "a stupid use of money."
The senator tweeted the words after she said them at a Los Angeles town hall, according to The Hill.
G/O Media may get a commission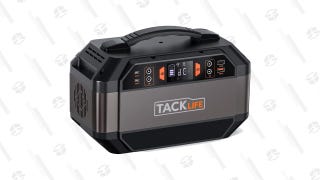 Tacklife Portable Solar Generator
Harris' direct remark came after Trump's budget chief, Mick Mulvaney, floated a possible quid pro quo on the wall and Obamacare. Harris, like many of her Democratic colleagues, was not here for it.
Mulvaney said at a Bloomberg Live event Friday that for every $1 in funding that goes toward a border wall in the funding bill, the Trump administration would put $1 of funding toward Obamacare.

"We'd offer them $1 of CSR [cost-sharing reduction] payments for $1 of wall payments. Right now that's the offer that we've given to our Democratic colleagues," Mulvaney said.
According to Business Insider, Senate Minority Leader Chuck Schumer (D-N.Y.) likened the idea to a hostage situation.
"The White House gambit to hold hostage health care for millions of Americans in order to force American taxpayers to foot the bill for a wall that the president said would be paid for by Mexico is a complete nonstarter," a Schumer spokesman said.
If the two parties do not reach a deal on the budget, the federal government will partially shut down Friday.

Read more at The Hill and Business Insider.