Colin Kaepernick's long wait to get back in an NFL uniform may be over soon, according to his lawyer Mark Geragos. Bleacher Report was the first to report the story.

"I think within the next 10 days somebody will sign him," Geragos said in an appearance on The Adam Carolla Show that was posted Tuesday. "I think somebody's gonna sign him. I think the NFL has to come to their sense and realize every day that goes by just proves the collusion case even more."

Geragos didn't provide any details as to which, if any, teams have recently expressed an interest in bringing on Kaepernick, who has yet to be signed despite being one of the most accomplished free agents on the NFL market.
Kaepernick was the first and most prominent NFL player to kneel during the national anthem last season—a gesture that drew ire from front offices across the league. One widely quoted NFL executive said that he hadn't seen "this much collective dislike among front office members" since Rae Carruth, a former Carolina Panther and convicted murderer.
G/O Media may get a commission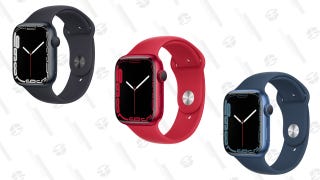 Up To $45 Off
Apple Watch Series 7
Earlier this month, Kaepernick filed a collusion lawsuit against the NFL owners, alleging that they had conspired to keep him out of the league. During the off-season, the former San Francisco 49ers quarterback met with the Seattle Seahawks. The Baltimore Ravens also expressed interest in Kaepernick but ultimately chose not to sign him.
Read more at Bleacher Report.