K. Michelle's latest album, Kimberly: The People I Used to Know, is more or less an hourlong, multigenre "Fuck you" to various folks who have pissed her off for varied reasons through the years.

The frame of mind she entered or at least settled on for her fourth studio effort is laid bare in the opening interlude, which features the singer-songwriter and television personality proclaiming, "If you're listening to this album, thank you—you're either a helper or a hater and part of the reason why I got to this paper." I tend to think that people who fixate on their haters—real or imagined—set themselves up for needless mental exhaustion, but for the Memphis, Tenn., native and FAMU alum, disdain serves her well—musically, anyway.
For those of us who have followed K. Michelle before she joined Love & Hip Hop: Atlanta, when she was a Jive recording artist releasing mixtapes like the criminally overlooked What's the 901?, that comes as no surprise. She proved it on that mixtape along with the ones she dropped post-LHHATL fame, such as 0 Fucks Given and Still No Fucks Given. Many of these sounds carry the same spirit of tracks from those offerings like "Bitch Outta Me" and personal favorite "Fuck You."
Take, for instance, the album's first full track, "Alert," in which K. Michelle takes shots at former co-worker and ex-friend Joseline Hernandez, rapping, "Listen, José, stay off my timeline/Matter fact, stay off them white lines." She keeps going, taking aim at child-left-behind rappers ("Fuck them rappers who mumble") and reality stars who overinflate their celebrity ("You on TV, bitch, but you not a star"), all while reminding listeners, "I'm the OG, ho." This song is only 2 minutes and 18 seconds long, y'all, though I wish it were longer because quiet as it's kept, K. Michelle is quite the competent rapper.

Of course, she is a singer first, so she shifts from hip-hop to a more bluesy, soulful number in "God, Love, Sex and Drugs." If you're curious, she prefers legal drugs. Shoutout to folks with good insurance who reside in higher tax brackets with access to the finer stimulants in life? Or not.

G/O Media may get a commission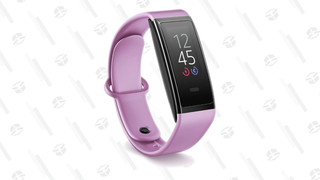 44% Off
Amazon Halo View Fitness Tracker
There's also a bit of pop to be found ("Heaven," "Run Don't Walk" and "Brain on Love") and, naturally, country influences ("Woman of My Word," which closes the album). K. Michelle has mentioned plans to go full throttle with her foray into country music. Considering how long she has been talking about it, she should go ahead and get her Darius Rucker on already.

In the meantime, I want to relish this glorious pissed-off&B shit she's released.
Enter "Crazy Like You," a track that in its initial seconds sounds like your typical heartbreak-focused anthem. But of course, this is K. Michelle, so she takes it 12 steps further. Yes, she says of a man who wronged her, "I hope you get this back times 10," but it becomes a lot more pointed as the song goes on: "Hope ya kids is ugly as you." After this wish is offered, she proceeds to croon, "Lord forgive me of my sins/I can't let the devil in."

Speaking of the Lord, based on its title, one might assume "Talk to God" was going to be one of those tracks you turn on when you decide to opt for bedside Baptist rather than make your way to service. No, no. "Talk to God about me/How you feel about me/Look him in his eyes, ask him why I'm fly." This is the parental-advisory version of "blessed and highly favored" that more or less says to the haters, "God is my nigga—stay mad."
She echoes a similar sentiment on "Kim K," which no one should have misinterpreted as an actual diss of Kim Kardashian. She's dissing folks, all right, but more so the people who rally behind white girls for doing anything that black women like her would be maligned as "hood" and "ghetto" for doing. I'm not sure how anyone could misconstrue this, since K. Michelle sings, "I let God handle you hoes/Said a prayer for you on the low. Wish I could be a Kardashian, so I could be black/They ask if it's real, I say it's real fat."

This song isn't about the Kardashians per se; it's mainly about those who tweet her nasty comments or write nasty things about her in the comment sections of the YBF or the Shade Room or on message boards like Lipstick Alley.

And if Dr. Miami's customers were looking for an anthem to pop back at those vexed over their choice to give their butt cheeks some cosmetic enhancement, turn to "Either Way," featuring Chris Brown, which begins with "Ass shots real or fake that ass gon' jiggle fo' him anyway." Since I couldn't spot the lie, I heard the line, bopped and went about my business.

Another gem is "Fuck Your Man (Interlude)." Similar to "Crazy Like You," this track is deceptive because she is basically snatching your edges while plotting on your man in a jazzy number. Coko from SWV would be so proud about how sweetly K. Michelle sings about screwing someone else's man. Moreover, she uses the song as an opportunity to take shots at another former co-worker and friend, Mimi Faust, noting that she won't have any man have her "hanging from the shower rod, recording me." She really, really hates most of those people she used to work with and doesn't mind reminding all of them who has gone on to do the most after leaving the franchise.
Yet, as she notes on "Takes Two," which features Jeremih, although she won't be trying any of Mimi's tricks, she will be "On top, pop my pussy like I pop my collar" and will be "naked in the kitchen while I'm cooking collards." There is so much happening all the time on most of these songs. I enjoy all of it all the same.

K. Michelle is a polarizing artist because she's loose with her opinion and vitriolic in her expression of grievances. If you like her, you like her, but for those who don't, I worry that you're missing out because this girl is funny as fuck. You can't help laughing at the aforementioned songs or others, à la "Make This Song Cry," where she laments her choice to stop "thotting," let go of her hoes and be a good partner, but sadly, 'twas all for naught.

These days, most of the artists lavished with praise whose roots are based in R&B are those that make music considered to be "alt R&B" or anything perceived to be without boundaries. However, R&B has always been a fluid genre. There have always been singers who can make what constitutes traditional R&B and extend themselves to other areas like funk, country and pop. K. Michelle is one of those artists, and perhaps the delivery and presentation may generate preconceived notions from some, but make no mistake: She is making some of the most interesting, entertaining music of the decade.

So much of her music screams, "What if Anita Baker and Millie Jackson made a baby who bought a bigger ass but was birthed with an even bigger mouth?" I say that as a compliment. Even I know a few who take my affinity for her as a sign of being ghetto. Maybe I do have the spirit of a burgundy weave ponytail in me, but that doesn't negate the fact that K. Michelle is no less eclectic and talented than her contemporaries. If anything, she's more.

K. Michelle may arguably fixate too much on the limitations others try to place on her, but if she's truly in the "Fuck all y'all" mentality these days, it will serve her well. Don't worry about Grammys; worry about quality. As she herself noted, "The industry lies, but my numbers don't."