Lupita Nyong'o takes her roles very seriously.
The Oscar winner also likes to play—especially with fashion and makeup, so it's no big surprise that she came up with a dramatic look for the London premiere of Us. Her dual starring roles in what critics are already calling the scariest film of the year have been lauded as her best yet, and the actress is clearly enjoying the dark side, sporting a downright vampiric look on Thursday's red carpet.
Granted, the contacts read brown from a distance, but like the film, things got decidedly sinister upon closer inspection—and a black lip added even more drama.
Nyong'o's makeup look was courtesy of longtime makeup artist Nick Barone, who used products from Lancôme (where the star is a beauty ambassador) to create a smokey eye and lip to compliment a sequined, red tartan-patterned wrap dress by The Attico. Topping the look was a head full of naturally-textured curls styled by Vernon Francois with help from KnappyHair, which has been the source of many of Nyong'o's latest looks—as well as those of good friend and Black Panther co-star Danai Gurira, Serena Williams, Susan Kelechi Watson and more.
Oh, and there was also Us and Black Panther co-star Winston Duke in purple-on-purple. Hey, M'Bae-ku ...
G/O Media may get a commission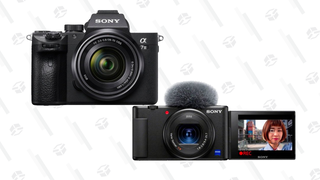 Cyber Monday Deals
Sony Camera Sale
Of course, Nyong'o has had no shortage of lewks at the ready as she promotes Us, which unbelievably is her first-ever starring role, despite her A-list status. Starring on the cover of Porter Edit's most recent issue, Nyong'o spoke about being embraced in Hollywood after her breakout role in 12 Years a Slave by industry vets like Alfre Woodard, Oprah and Gabrielle Union (not to mention director Steve McQueen, producer Brad Pitt and co-star Sarah Paulson). Nyong'o told the mag:
I was welcomed [in Hollywood] with such warmth. My castmates surrounded me. I don't know if they are aware of this, but I felt so protected. ... Alfre Woodard, she was invaluable. I would ask questions about my finances, where I should live, all sorts of things. [Woodard] had this dinner that she throws during Oscars season for all the black women in Hollywood. ... Oprah embraced my mom and my brother and invited them to her house for lunch without me. I was just like, 'Wow, this is an incredibly supportive industry.' I didn't feel isolated. Gabrielle Union: we'd gone to a fashion show in France together and she'd been so open and embracing, exchanging phone numbers with me – there was a 'you need anything' kind of vibe. I didn't feel alone within the black community, I didn't feel alone within the Hollywood community…
And while we know Nyong'o as the actress who made natural hair start trending on the awards season red carpet, she is clear that it is yet another accessory; albeit one with a relatably loaded history, as she explained to Porter Edit.
I don't feel defined by my hair, and I think that's why I like to play with it. I remember when I was a teenager in Kenya, I had relaxed hair and I decided on a whim that I was going to cut it all off and grow my hair natural. I'd been going to the same hairstylist for years – he was a Kenyan, like me, and when I went natural, he didn't know what to do with it. He was like, 'They don't teach us how to style natural hair in school.' There's been a whole revolution, led by African America for sure, where we are embracing our natural hair texture and returning to a past glory. You look at beautiful traditional hairdos from pre-colonial and colonial times and they have been erased from so much of our contemporary expression. ... Now at least it seems like we are waking up to ourselves again, and are like, 'Hey, hold on, wait a minute…' Our hair is kind of fabulous and it's like clay and we can do all sorts of things with it.
These days, Nyong'o can credit celebrity stylist François with the myriad shapes she rocks on the red carpet, casting that same referential eye to the past in creating what we often mistake for fresh and futuristic looks. In truth, they're timeless.
We look at images [from the past], then apply it to who we are today. I think part of it is that when my previous hairdresser said he didn't know what to do with my hair, I didn't know what to do with my hair either, because I hadn't seen [what was possible]. I was just in Benin [in West Africa] and I saw this woman with a gorgeous hairdo and I took a picture of it. I was like, 'Okay, research.' When you see it, then you know it can happen and then you can make it happen. For me, the red carpet and [shoots like] this are opportunities to provide another image that can be a reference for some girl somewhere with hair like me to get creative.
And if the prospect of sitting in a darkened theater with Us scares you as much as it does me, Nyong'o assures us we're not alone. Apparently, the exhaustive shooting schedule and surreally terrifying content took their toll on her, too.
I developed new fears [after working on Us]. I am terrified of my own reflection, which was really tough because I was staying in a house that had mirrors everywhere. My days were so long that when I'd get home from filming and it was time for me to shower, I was half asleep, and because it wasn't my home, I would come upon my reflection and scream at the top of my lungs.
We're not scared; you're scared.