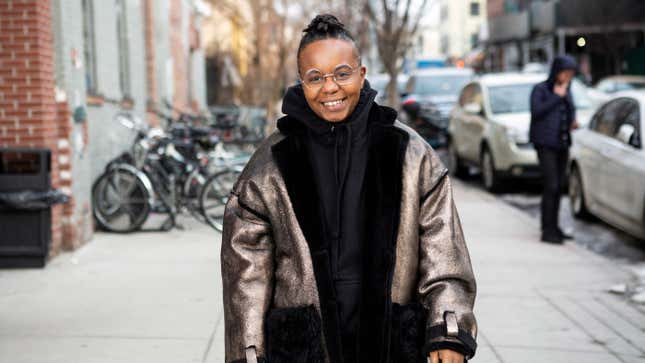 There's a little known but running joke among The Root staff about the catalogs of stock photos we need to do our jobs; inevitably, they manage to be simultaneously inadequate and offensive in their representation of marginalized communities. For instance, a search for "black women and money" may also bring up images of prostitution, while a search for "dreadlocks" predominantly brings up images of braids, as if these two things are interchangeable. A search of "lesbian" or "transgender"? *Face palm*
Here's How Medicaid Expansion Can Play A Role In Black Maternal Healthcare
Several platforms, including Nappy and CreateHer, have tried to address the nagging lack of cultural diversity and naturalism in stock photos, but last week, a few big names made representation even easier. with the launch of #ShowUs. It's a collaboration between Dove, Getty Images and Girlgaze, and The Gender Spectrum Collection, and newly launched by Vice's media affiliate Broadly.
Each is attempting to clap back at restrictive and/or binary perceptions of beauty and "normalcy" with an array of images aimed to emphasize the humanity of marginalized people, rather than centering their differences. As Vice captioned a post promoting Broadly's new collection:
This collection aims to help media better represent members of these communities as people not necessarily defined by their gender identities—people with careers, relationships, talents, passions, and home lives.
Additionally, Broadly wrote on its site:
Stock photos that accompany articles do more than illustrate subject matter. They have the power to shape perceptions of entire communities. When used critically, they can chip away at harmful stereotypes, pushing more accurate perceptions and understandings to the fore. ...

Limiting visual representations of trans and non-binary people in media also limits the range of stories in which we imagine those subjects. With this collection, we hope to encourage richer representations of trans and non-binary personhood...
Project #ShowUs is pushing back against beauty norms and the gender gap, "creating the first publicly accessible photo library made up of more than 5,000 unaltered images of diverse, inclusive women by 116 non-binary and female-identifying photographers from 39 countries," read an announcement on Shondaland. Featuring women of all ages, sizes, ethnicities and abilities, the collection aims to change not only perceptions of women in the media, but the ways companies market to women.
"We found that 70 percent of women still don't feel represented in media and advertising, while 6 out of 10 girls truly believe that to do well in life they have to look a certain way," Dove Marketing Director Amy Stepanian told Shondaland. "For us, that is just totally unacceptable. So we're doing something about it; we're going to shatter the stereotypes."
What's more? NYU Stern School of Business professor Dolly Chugh, who consulted on the project and also spoke with Shondaland, revealed that lack of representation can have direct correlations to confidence and assertiveness in the workplace and daily life for a whopping third of all women—not a small consideration, as we near yet another Equal Pay Day.
Are stock photos the big fix we've been waiting for? Of course not, but it's a much-needed step in hopefully helping to normalize all expressions of humanity.
"I think to the extent that we can just nudge representation in media and advertising in the direction of inclusivity—that's a meaningful change," Chugh said. "It doesn't change everything. It doesn't eradicate it. It doesn't mean we don't have a long way to go. But it moves us in an important direction."