In a case that just won't seem to die, lawyers for Jussie Smollett filed court papers Thursday to answer a charge that they are not legally allowed to practice in the state of Illinois and therefore shouldn't be able to fight to block a judge's ruling appointing a special prosecutor in Smollett's case.

In response to a motion to disqualify Smollett's out-of-state attorneys, the actor's New York-based lawyer, Tina Glandian, basically said, "We good," the Chicago Sun-Times reports.
Glandian said that she and the rest of Smollett's legal team would continue their quest to kill having a special prosecutor look into the handling of the actor's case, in which charges were dropped after he was accused of staging a racist and homophobic attack on himself in Chicago earlier this year.
The person making the charge against Smollett's attorneys is retired Chicago appellate court Justice Sheila O'Brien—a woman who's seemed to be on a crusade to get the former Empire star up on some kind of charges and/or perhaps take down the Cook County State's Attorney Office led by Kim Foxx.
G/O Media may get a commission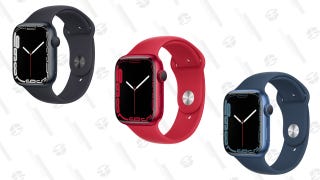 Up To $45 Off
Apple Watch Series 7
After Foxx's office chose to drop the more than 10 felony disorderly conduct charges against Smollett, it was O'Brien who filed a petition with the courts to have a judge appoint a special prosecutor.
Now, O'Brien's questioning the legal right of Smollett's out-of-state attorneys to represent him, saying they're not licensed in Illinois.
As part of her response to O'Brien, Glandian said O'Brien had long served her and the rest of Smollett's legal team without ever questioning their validity until now, and also wrote, per the Sun-Times:
that the day before O'Brien filed her latest motion, Glandian herself had contacted the [state Attorney Registration and Disciplinary Commission] to see if more paperwork was required to continue representing Smollett, and the ARDC staffer said they were uncertain.
Regardless, another hearing in the case is set for July 31.
And as for those who may be questioning O'Brien's motives, in a report earlier this year, the Sun-Times noted:
Many wonder if O'Brien is angling to run for Foxx's job, or trying to stoke the controversy on behalf of someone who is. After a hearing in May, O'Brien insists she is the rarest of Cook County creatures: a nobody whom nobody sent.
"I'm a private citizen. I was in public life for a long time," O'Brien told reporters. "I did this because I think it's the right thing to do and someone had to do it."