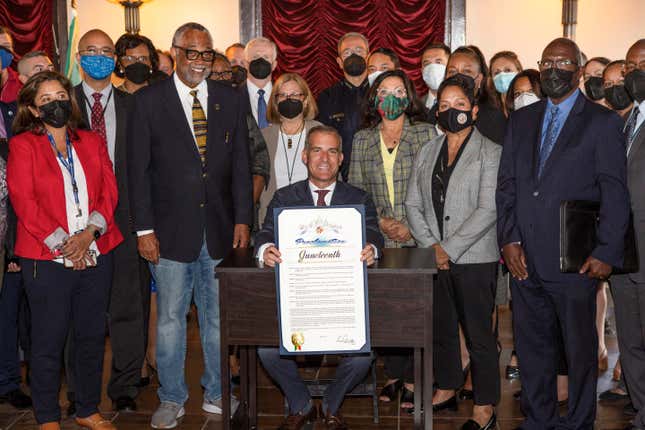 Eric Garcetti, the mayor of Los Angeles, signed a proclamation on Monday that makes Juneteenth an official holiday in the city. During the signing ceremony, Garcetti stated that the recognition of Juneteenth is a necessary step in dealing with America's racist history.
A Look Inside The 2022 National Portrait Gala
"We need every Angeleno to learn the full story of our past, no matter the ugliness of some of its chapters, and that means recognizing the lasting legacy of slavery in our country," Garcetti explained.
Just last year, President Biden made Juneteenth a federal holiday. By making it official in Los Angeles, it is now a paid holiday for all employees of the city. Councilmember Curren Price emphasized the importance of Juneteenth in a statement.
"Juneteenth for the Black community serves as a brighter chapter. Our freedom day. Our true day of emancipation. This will now be a day of remembrance for our City," Price said. The LA City Council were all voted to make Juneteenth a Los Angeles holiday in 2020.
Although it's becoming more and more recognized, that's not to say that there isn't work to do with how Juneteenth is being celebrated. Corporations like Walmart and institutions like the Children's Museum of Indianapolis have recently come under fire for their controversial approaches to commemorating the holiday.
Ikea also received backlash last year when it decided to concoct a Juneteenth menu that rightfully offended their employees. While many commend the nation's effort to recognize the complexity of this holiday, there are more effective ways to help Black people.