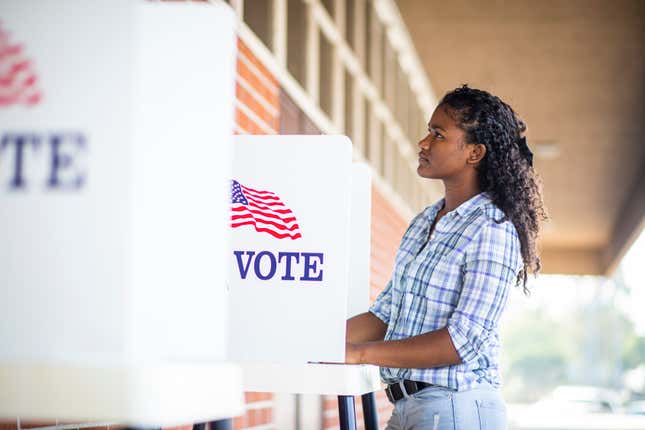 Updated 9/08/2023 at 8:00 am E.T.

Florida is appealing a court decision that would have protected the voting rights of Black Floridians. The appeal puts the ruling, which struck down Florida's heavily gerrymandered redistricting map, on hold.
Last week, Circuit Court Judge J. Lee Marsh ruled that the map violated the rights of Black voters as outlined in the state's constitution.
"The enacted plan results in the diminishment of Black voters' ability to elect their candidate of choice in violation of the Florida Constitution, wrote Judge J. Marsh.
The decision was a blow to DeSantis, who was extensively involved in the state's redistricting plan. The map heavily gerrymandered Black districts to reduce the political power of Black voters through a strategy of "cracking" and "packing." The Root wrote about the litigation and the greater controversy surrounding the map and DeSantis' political strategy back in April:
In a lawsuit, the Florida GOP was accused of using a two-pronged disenfranchisement strategy known as "cracking" and "packing" in predominantly Black districts. To simplify it a little, "cracking" refers to splitting a minority group amongst new districts to dilute their political power. So, for example, the new map split Black voters in Jacksonville into two different maps, diminishing their ability to pick a candidate. "Packing" is the opposite strategy. Essentially, you "pack" as many minority voters into one or two districts so you can limit the number of seats the group can get in Congress.
The redistricting map is only one part of broader set of policies targeting Black voters in Florida— including the Governor's "election cops." And with this appeal, it seems that DeSantis and the Republican state-legislature are set to keep on waging their all out war on Black political power.