Joseph Mann's family wants justice after the Sacramento, Calif., Police Department released videos showing exactly how the fatal shooting of Mann occurred. Now they are saying that it's clear police acted too soon, CBS Sacramento reports.
The four different videos released by police appear to confirm that Joseph Mann, 50, was on the ground shortly after SPD was called in July. And shortly after police arrive, Mann is shot 14 times.
"For them to just get out they cars and start shooting my brother, you know, being judge, jury and God, it's just not right," said Robert Mann, Joseph Mann's brother.
According to CBS Sacramento, attorney John Burris said that the videos do not show Mann being as much of a threat as police said he was.
The Mann family, as well as their attorneys, say they were upset that they were not able to view the videos privately before the public saw them.
G/O Media may get a commission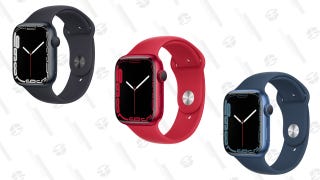 Up To $45 Off
Apple Watch Series 7
"For our family to see the video out there before we have the chance to see it was disheartening," said Robert Mann.
The family members are calling for the officers involved to be fired and prosecuted immediately.
Read more at CBS Sacramento.