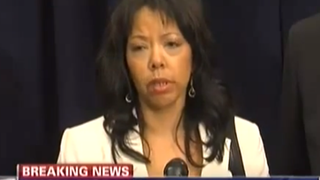 Sunday would have been Jordan Davis' 19th birthday. His mother, Lucia McBath, sent out this message on Twitter early on Saturday.

"Tomorrow is my boy's 19th birthday. I pray we will celebrate not only him but a just and righteous verdict."
But there was to be no verdict for Jordan, as the jury, made up of four white females, two black females, four white males, an Asian female and a Hispanic male, could not reach a concensus on the first-degree murder charge against Michael Dunn. After some 27 hours of deliberation, repeated urgings by the judge and what observors described as "yelling" in the jury room, the jurors claimed they were hopelessly deadlocked. They convicted Dunn of three counts of second-degree attempted murder for firing at the car in which Davis and his friends were riding.
After the verdict, Jordan's parents, Lucia McBath and Ron Davis, held an emotional news conference during which they spoke of how they had raised their son and their expection for justice.
Watch: