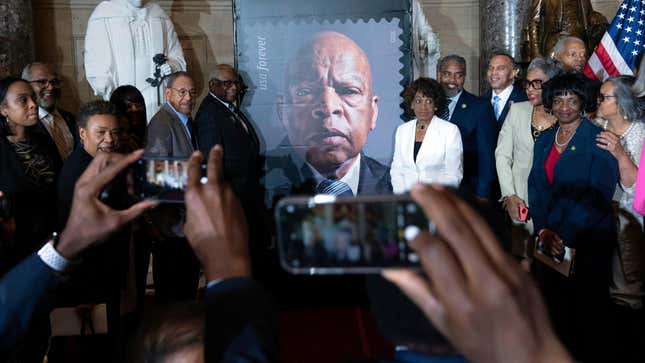 On Wednesday, the head of the U.S. Postal Service—alongside House leaders—finally revealed the stamp that honors the late Rep. John Lewis. The photograph of Lewis, D-Ga,, is from 2013 and was taken by Marco Grob for Time Magazine.
Amazon Prime Video's Harlem Star, Meagan Good, Plays That's So Random
The stamp was announced late last year and the Postal Service's website explained:
"This stamp celebrates the life and legacy of civil rights leader and U.S. Rep. John Lewis (1940-2020) of Georgia. Devoted to equality and justice for all Americans, Lewis spent more than 30 years in Congress steadfastly defending and building on key civil rights gains that he had helped achieve in the 1960s. Even in the face of hatred and violence, as well as some 45 arrests, Lewis remained resolute in his commitment to what he liked to call 'good trouble.'"
In addition, its pane's margin will feature a 1963 picture of Lewis by Steve Schapiro outside a protest workshop. During the unveiling ceremony, House Minority Leader Hakeem Jeffries, D-N.Y., and Linda Earley Chastang, (Lewis' former chief of staff) shared moving words about Lewis' legacy.
"The stamp will forever represent and commemorate one of our country's greatest sons and the conscience of our Congress," Jeffries stated. "It's appropriate that one of our forever heroes will be recognized with a Forever stamp."
An official dedication ceremony for Lewis' Forever stamp will follow and take place on July 21 at Morehouse College in Atlanta, Postmaster General Louis DeJoy confirmed during the Capitol Hill event. In addition, he said the Postal Service will rename Atlanta's main post office for Lewis.
"Our nation certainly benefited from his fearlessness and his unfailing willingness to get into good trouble," DeJoy stated. From 1987 until his death in 2020, Lewis served in the House. He passed away after being diagnosed with stage 4 pancreatic cancer. Lewis was 80 years old.