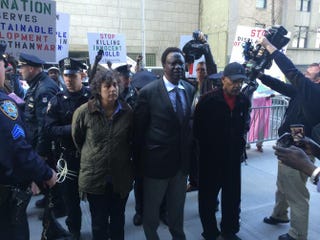 Radio personality and activist Joe Madison was arrested Thursday outside the United Nations after a protest against human rights abuses in South Sudan.

Madison was among three people arrested after the protest, which was held at Dag Hammarskjold Plaza, before the group walked to the Ugandan Mission—where the South Sudan Mission is co-located—demanding reconciliation and an end to the violence that has killed thousands of people and displaced nearly a million.
"Now is the time for the United States and the United Nations and the world to step up. We are focused on the Ukraine, but right now there are more people dying in South Sudan," said Madison, who is a host on the Sirius talk show "Urban View."
"This a matter of life and death for Africa's youngest nation and its people," Madison said. "The administration, Congress and the United Nations can't stand by in silence. I was at the birth of South Sudan when [the United States] and the U.N. pledged their support. Now is the time to act."

President Barack Obama signed an executive order April 3 clearing the way for possible sanctions against individuals believed to be fomenting violence in South Sudan. 
"Those who threaten the peace, security or stability of South Sudan, obstruct the peace process, target U.N. peacekeepers or are responsible for human rights abuses and atrocities will not have a friend in the United States and run the risk of sanctions," the White House said in a statement at the time.