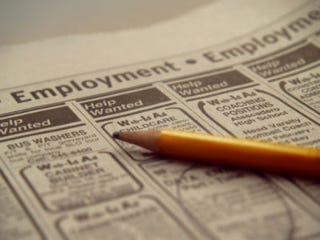 Milwaukee Journal Sentinel columnist Eugene Kane calls the bluff of GOP Gov. Scott Walker, saying that Wisconsin's failed mining bill for the northern part of the state would not have addressed the city's most pressing problem of black male unemployment. He calls on legislators to stop playing politics and to get down to brass tacks.
… The mining proposal came with some serious baggage for legislators, residents and Wisconsin tribes with environmental concerns. And frankly, I don't know many African-American men in Milwaukee who would consider applying for a mining job in northern Wisconsin anyway. It's a pretty long commute from the north side, not to mention every other side of town.
Of course, workers in northern Wisconsin need good jobs, too. But seeing how African-American men have been identified as a segment of the population most sorely in need of more jobs, it's a bit disconcerting to realize so much effort was spent by this Legislature trying to create a project that wouldn't have directly addressed that problem.
I guess it's back to square one.
It's often amusing to hear the differing views about job creation expressed in partisan political terms. Supporters of President Barack Obama point to declining unemployment figures nationwide and blame Gov. Scott Walker's administration for Wisconsin trailing other states in job creation. Walker supporters brag that the governor's policies have turned Wisconsin around and proclaim Obama a hindrance to broader job creation in the U.S.
I'm pretty sure both sides can't be right.
Read Eugene Kane's entire column at the Milwaukee Journal Sentinel.