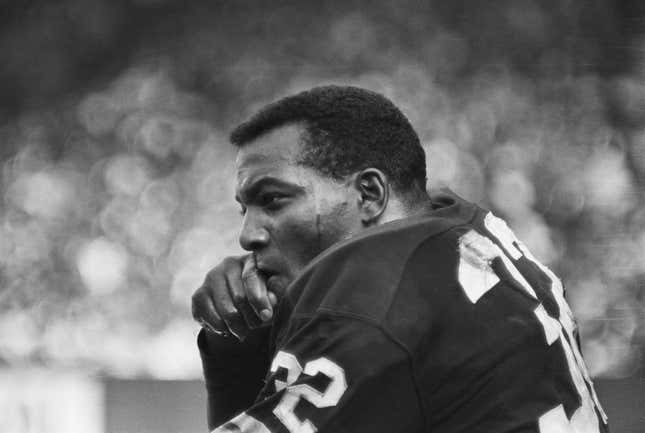 The sports world has suffered a huge loss. Hall of Fame running back Jim Brown has passed away at the age of 87. The news was announced by his wife Monique in an Instagram post on Friday. She wrote, "To the world he was an activist, actor, and football star. To our family he was a loving and wonderful husband, father, and grandfather. Our hearts are broken..."

Stephen A. Smith's NFL Playoffs Predictions
Brown is widely considered to be the greatest player in the history of the NFL. His records certainly make him the greatest running back of all-time. In his 118 straight games—yes he never missed a game—he averaged 104.3 yards per game and 5.2 yards per carry. During his history-making career, he rushed for 12,312 yards and 106 touchdowns. He's also a three-time MVP who won the National Football League championship with the Cleveland Browns in 1964.
Of course, those are just numbers. Younger fans need to go online and watch videos of him playing. The passion and toughness he played the game with are unmatched. Though the game has gone through countless changes since Brown played in the '60s, he's still considered untouchable. He's the running back that all other running backs base their game on.
As influential as he was on the field, he may have been even more impactful off it as an activist. He started the Black Economic Union in 1967, an organization geared toward financial equality for Black Americans. That same year, alongside Bill Russell and Kareem Abdul-Jabbar, he organized the "Muhammad Ali Summit" to support the heavyweight champion when he refused to serve in the Vietnam War. He was in no way a perfect man, but he was a role model for generations of athletes. News of his passing has sent shockwaves through the football community.
The Cleveland Browns saluting his impact on the organization, tweeting, "Jim Brown Forever. Legend. Leader. Activist. Visionary. It's impossible to describe the profound love and gratitude we feel for having the opportunity to be a small piece of Jim's incredible life and legacy. We mourn his passing, but celebrate the indelible light he brought to the world."
"We lost a great fighter," John Wooten, Brown's former roommate with the Browns, told USA TODAY Sports.
Dallas Cowboys Hall of Fame running back Tony Dorsett paid his respects, tweeting, "There isn't a man who played running back in the NFL who didn't see Jim Brown as an iconic legend on and off the field. Rest easy, my brother."
NFL veteran and NFL Network analyst Jason McCourty reflected on his time with Brown, writing, "RIP to the legend Jim Brown. It was cool as hell seeing him in the hallways and having conversations with him during my season in Cleveland! A leader and difference maker on and off the field!"
A legendary running back in his own right, Barry Sanders, honored his friend, tweeting, "You can't underestimate the impact #JimBrown had on the @NFL. He will be greatly missed. Additionally, his generosity and friendship with my family is a gift that we will always treasure. Our thoughts & prayers are with the Brown Family & @Browns fans at this time."
Dallas Cowboys superstar Emmitt Smith celebrated Brown's legacy, writing, "My heart aches at this very moment after hearing of the passing of Jim Brown. He is and was a true legend in sports and in the community using his platform to help others. Thanks King"