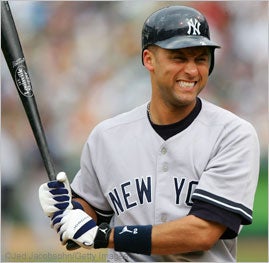 2,721.
That's how many hits it took for Derek Jeter to tie Lou Gehrig's Yankee record. The hit came last night against the Tampa Bay Rays in the seventh inning. From ESPN:
"It's just kind of mind-boggling to know my name is next to his," Jeter said after the Yankees' 4-2 victory.

Jeter had a chance to break the record in the eighth inning, but he walked against reliever Grant Balfour.

The Yankees are off Thursday, and Jeter will get his next opportunity Friday night at home against Baltimore.

Already on their feet in anticipation, fans at Yankee Stadium let loose with a roar when Jeter's sharp grounder inside the first-base line got by a diving Chris Richard in the seventh.

Jeter's parents, watching from an upstairs box between home plate and first base, raised their arms and exclaimed in excitement.