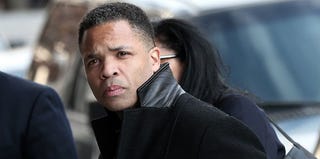 The Washington Post is reporting that the former Illinois Democratic congressman entered a guilty plea Wednesday in federal court. He's charged with using $750,000 in campaign funds to buy fur coats, a Rolex watch and pop-culture memorabilia. The charge against him carries a maximum penalty of five years in prison.
Jackson's wife, Sandra, who has also agreed to plead guilty, was charged separately with filing false income tax returns from 2006 through 2011 and faces a maximum sentence of three years in prison.
Read more at the Washington Post.