A woman who worked as a gift shop employee at Jenkinson's Boardwalk & Aquarium in Point Pleasant Beach, NJ, was fired by management after they investigated an incident caught in a viral video in which she was accused of being racist toward a group of black school children.
On Aug. 10, Attiyya Barrett—director of the Princess to Queenz outreach group—recorded a video of an angry confrontation between her and the gift shop employee in which she accused the woman of displaying racist behavior toward a group of young black girls that came into the store.
Both women say that a group of young girls being chaperoned by Barrett entered the store alone that day. The employee asked them to leave because they did not have a chaperone. The girls left the store, but then came back with a chaperone—only for the employee to ask them to leave again.
In the video, Barrett asks the employee why she asked them to leave a second time even after they came back with a chaperone as instructed.
"I didn't think she was a chaperone," the woman replied.
Barrett says it was explained to the employee that the woman was in fact a chaperone, but that she still asked the group to leave anyway. When she asked what the reasoning for that was, she says the woman told her "they are not welcome."
G/O Media may get a commission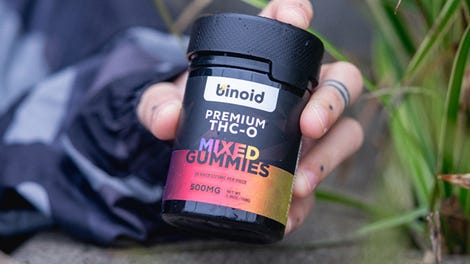 25% Off + Free Shipping
Binoid THC-O Gummies
After Barrett posted her video, Jenkinson's issued a statement which said the employee had been suspended while they were investigating the incident.
"Discrimination of any kind is not tolerated at Jenkinson's. We strive to provide all of our customers with an enjoyable experience and we clearly missed the mark this time," the statement said. "We sincerely apologize to the girls from the camp group for the way they felt upon leaving. We have been in contact with the group leader and will continue to work with her to make amends."
Jersey Shore Online reported Tuesday that the woman has since been fired.
Jenkinson's Boardwalk management said in a press release, "As a result of this investigation, the gift shop employee has been terminated effective immediately."
"This incident does not reflect the core values of the boardwalk. In our 90-year history, Jenkinson's has always been and will continue to be the place where people from all races, religions, ages, genders, and cultures are welcome. We are committed to fostering, cultivating, and preserving our culture of diversity and inclusion. Jenkinson's will also be conducting a diversity training program for its employees in the very near future to avoid this type of occurrence in the future."