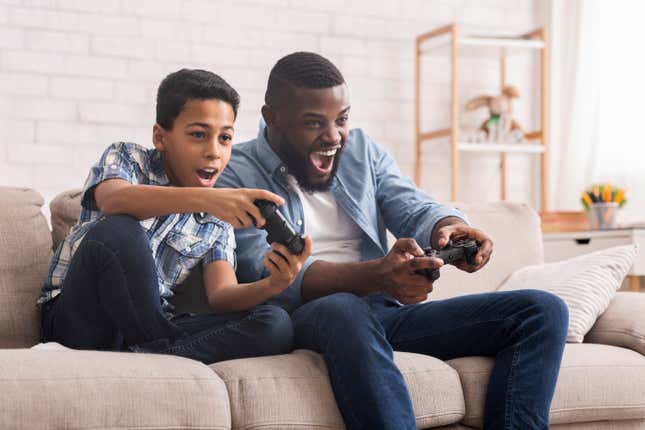 You can't discuss the history of video gaming without mentioning Gerald "Jerry" Lawson. His engineering mind is the reason why we have games as we know them today.
Cedric the Entertainer Shares Details Of His First Crime Novel & Tackles Our Random Rapid Fire Questions
As a pioneer in the industry, Lawson is responsible for the video game cartridge. Some of you remember blowing on them to make them work, while others remember your elders telling you about them as you wait to download a new update for whatever game you're playing right now. Either way, it's all good. But let's make one thing clear: don't even try to listen to anyone discussing the history of video games without them mentioning the "Father of the Video Game Cartridge."
A New York native, Lawson was born in Brooklyn in 1940 with a passion for science and technology. While growing up in public housing in Queens, he built a ham radio in his early teens. That drive propelled him to eventually become a self-taught engineer.
After beginning his studies at both Queens College and City College of New York, he moved to California to begin working at Fairchild Semiconductor (a company responsible for microchips and other electronics) in the 1970s. During that time, Lawson was a part of the Homebrew Computer Club, a hobbyist group that nurtured the brain trust of Silicon Valley with historical figures like Apple founders Steve Wozniak and Steve Jobs.
While at Fairchild, Lawson oversaw the development of the Fairchild Channel F, which is the first gaming console that allowed users to swap out cartridges. The development team figured out how to convert games to software that could be stored on ROMs, rather than be natively built into the machinery. This was a massive breakthrough for the medium, as it freed software developers to build and store their works, and for consumers to play multiple games on the same system. Lawson's team also designed the first 8-way joystick and the pause button, as well.

Although the Fairchild Channel F never became a household name when it launched in 1976, the console—and Lawson's innovations—paved the way for Atari, Nintendo, and Sega's home systems. Lawson left Fairchild in 1980 to found Videosoft, a developer that produced games for Atari consoles. From there, he went on to do software consulting before spending his later years mentoring young engineers.
In March 2011, Jerry Lawson was honored at the Game Developers Conference by the Independent Game Developers Association, one of the industry's most renowned non-profits devoted to the interests of development. However, sadly, he passed away the following month due to complications from diabetes. Despite no longer being here with us, his legacy lives on through a variety of scholarships, museum displays, and features in documentaries, such as Netflix's High Score. To commemorate his birthday in 2022, Google featured him as their daily Doodle on their home page.
Lawson's legacy is well-known by many of us who work in the industry. That iconic photo of him sitting with TVs and hardware is an image very much burned into my brain. But for everyone else, his contributions to this medium are an important piece of Black history, and they should be shared widely.

Did you know about Jerry Lawson's contributions to gaming? Let us know in the comments!

Sterling McGarvey is the Head of Consulting at Hit Detection, a Black-owned business that focuses on consulting within the videogame industry.