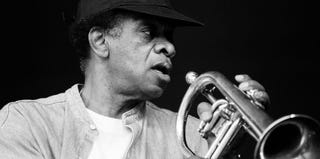 Legendary jazz trumpeter Donald Byrd, known as a "pioneer of the trumpet" and an "avid, eternal student of music," died earlier this week at the age of 80, a family member has confirmed, the Huffington Post reports. It's still unclear why his nephew alleges that other family members placed an "unnecessary shroud of secrecy" over his death.
Amoeba reports that Byrd's nephew, Alex Bugnon, confirmed via Facebook that his uncle died on Feb. 4, adding that for an unexplained reason other family members were trying to keep the news of his death private.

"I have no more patience for this unnecessary shroud of secrecy placed over his death by certain members of his immediate family," wrote Bugnon.

Byrd was born in Detroit in 1932, and was already an accomplished trumpeter by the time he finished high school. He later went on to play in a military band during his term in the United States Air Force, and then obtained a bachelor's degree in music from Wayne State University and a master's degree from Manhattan School of Music …

The cause of death has yet to be released, and in a statement his nephew wrote:

"Let's remember Donald as a one of a kind pioneer of the trumpet, of the many styles of music he took on, of music education. In sum, Donald was an avid, eternal student of music, until his death. That's what I try to be, everyday!! Rest in peace, uncle!"
Read more at the Huffington Post.