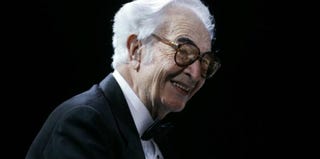 Dave Brubeck, the iconic jazz pianist and composer whose recordings helped the genre gain worldwide popularity, died on Dec. 5 at a hospital in Norwalk, Conn., according to his manager, Russell Gloyd. Best-known for cuts such as "Take Five" and "Blue Rondo a la Turk," Brubeck emerged as an international star when his quartet's 1959 album Time Out became the first jazz instrumental album to sell 1 million copies.
Brubeck was one day short of his 92nd birthday. He died of heart failure, en route to "a regular treatment with his cardiologist," said Gloyd.

Throughout his career, Brubeck defied conventions long imposed on jazz musicians. The tricky meters he played in "Take Five" and other works transcended standard conceptions of swing rhythm.

The extended choral/symphonic works he penned and performed around the world took him well outside the accepted boundaries of jazz. And the concerts he brought to colleges across the country in the 1950s shattered the then-long-held notion that jazz had no place in academia.
Read more at the Chicago Tribune.