I'm a grown-ass, 40-year-old dad, so there are certain things I cannot do. I will never again eat at Chuck E. Cheese unless I want to end up on an episode of To Catch a Predator, but I'm also not old enough to eat at the Golden Corral. I can't spend $200 on Jordans or wear oxymoronic skinny jeans that sag, but I have not yet reached the age where I can rock the uncle-at-the-cookout sandals or a matching, one-color linen short set.
And when it comes to music, smooth jazz sounds like diarrhea in stereo, but what the fuck I look like driving around listening to Lil Yachty or Migos? Like I said, I'm a grown-ass man.
That's why Jay-Z's 4:44 marks an important moment in the evolution of hip-hop. It's the first of its kind: a grown-ass hip-hop album.
Jay-Z isn't the first hip-hop star to try to do this; he is just the first to accomplish it. Common's Black America Again was close, but it was too aware of itself and too poised to blast in the car. A Tribe Called Quest's We Got It From Here ... was too reminiscent. We listened because it was Tribe. ATCQ is the rap version of Frankie Beverly and Maze—they just make you feel good.
G/O Media may get a commission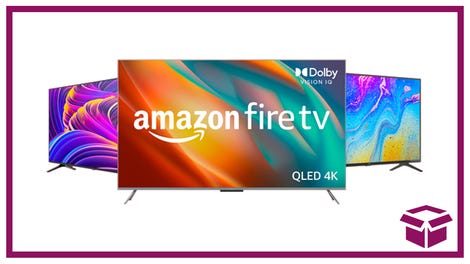 Ooh. stunning.
New Amazon Fire TVs
It's not as if there isn't hip-hop that grown people can enjoy. Aside from Kendrick, J. Cole, Kanye and Chance, there are a million good, lesser-known hip-hop artists available at the touch of your smartphone's screen. But until today, hip-hop didn't have a legend who was still making great, relevant art. Where was our version of Mary J. Blige? Can we get a version of U2?
Jay-Z's 4:44 is the first time we've heard a fully realized adult make relevant, popular music without desperately clinging to his youth or sounding like your uncle in the short set. He's the same Jay-Z, but a different Jay-Z—as he should be. He's a grown-ass man.
Opening with "Kill Jay-Z," he is introspective but still defiant, reminding himself that "you got people you love you sold drugs to." He is still a baller, but instead of popping bottles, he raps about how he has the only fully black-owned Champagne company. "You wanna know what's better than throwing away money at a strip club? Credit," he raps in "The Story of O.J."
Financial freedom our only hope/Fuck living rich and dying broke

I bought some art work for one million/Two years later it's worth 2 million

Three years later it's worth 8 million/I can't wait to give this shit to my children

Y'all think it's bougie and that's fine/But I'm trying to give you a million dollars of game for $9.99
This may be the most personal and honest Jigga we have ever heard. He fearlessly wades into the Lemonade controversy in the album's title track with a bare-chested, desperate, open-hearted apology taking responsibility for infidelity, his attitude and even one (or more) miscarriages. After revealing his fears about his children finding out about his cheating, he rolls into "Family Feud," with a Beyoncé appearance on the track, with both of them reveling in the strength of the family they created.
In perhaps the album's most important and uplifting song, "Smile," Hov raps: "Mama had four kids, but she's a lesbian/Had to pretend so long that she's a thespian," later adding, "Cried tears of joy when you fell in love/Don't matter to me if it's a him or her." His mother makes an appearance on the song, reciting poetry about how she spent her life "living in the shadows"; and who else has their mother coming out on their album like Gloria Carter?
Produced entirely by the legend No I.D., even the tracks are grown, using samples of Nina Simone, Stevie Wonder's "Love's in Need of Love Today" and Donny Hathaway. Jay didn't laden the album with features, as there are no guest verses, and when Beyoncé, Frank Ocean and Damian Marley make appearances, they serve complementary roles in the chorus.
Even though it is adult, introspective, loving and smart, the album still bangs. It is still a Hov album, and even though I am partial to the machine-gun, lyrical show-off, these may be the best songs he has ever made. It is defiant but under control; intelligent without being preachy. It is a man whose youth may have been one of the brightest we have ever seen, but instead of riding his legacy, he looks back and moves forward.
Jay-Z released Reasonable Doubt in 1996, and there is no other person in hip-hop who has enjoyed this much success for this long. Twenty-one years is a long time in any industry—and in hip-hop it is unfathomable. I will not make the shortsighted declarations about where this album ranks in his catalog, but this album actually did what the first track suggested: It does kill Jay-Z, putting the iconic balling-out, collar-popping drug dealer to rest. But this new Hov is infinitely more interesting, because he is a grown-ass man.