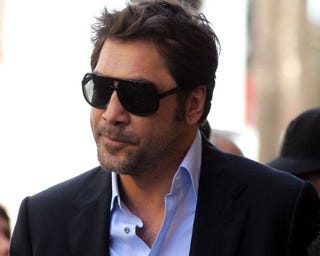 MSN is reporting that Academy Award-winning actor Javier Bardem is calling for global actors' right. The actor, who gave a chilling performance in No Country for Old Men, is asking for actors to have the same rights as writers and musicians. He wants actors to have the right to earn money from the use of their performance beyond a film's original release. He also said that he wants movie tickets to be cheaper so that even would-be pirates might go to see a film at the theater once in a while. Bardem believes that the price of movie tickets is too high, which leads to greater piracy, which inevitably hurts nine out of 10 actors who aren't well-paid.
As if we needed another reason to like Javier Bardem! Who says that celebrities don't stand for anything? Bardem understands the role that movie tickets play in the piracy issue, which has yet to be discussed in a real or meaningful way, and the need to protect actors who aren't on the A-list. Kudos to Bardem for taking a stand on an issue affecting actors around the world.
Read more at MSN Movies. 
In other news: Legendary Boxing Promoter Butch Lewis Dies.