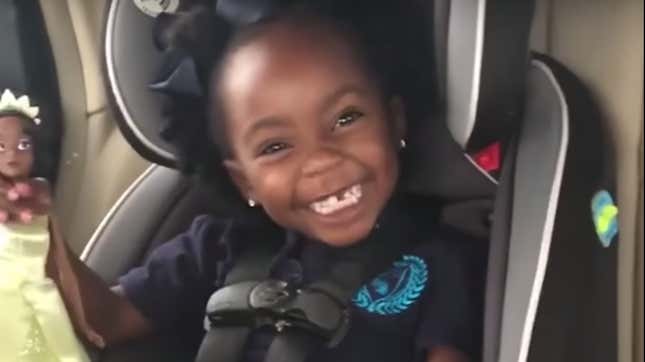 Disney's Aladdin remake flew away with $113 million on its magic carpet this Memorial Day weekend, according to the Hollywood Reporter. But despite a new, more progressive Princess Jasmine—she even has a new power anthem, titled "Speechless"(h/t Refinery29), for one 4-year-old, the plot still has a major sticking point.
How Atlanta Produced A Cheesesteaks Empire With A Little Help From A Vegan & Rapper Eve | Securing the Bag
"She has to go by herself...Jasmine needs to go see the world by herself, because Aladdin needs to just stay there, and Jasmine can just go by herself," mini social media maven Madison Jade (seriously, this kid already has nearly 200,000 followers) proclaims from her car seat, in a video filmed and posted to Instagram by mom Janess Strickland.
Pointing out the obvious—that like the door in Titanic, there isn't realistically enough room on the magic carpet for Jasmine and Aladdin to travel comfortably and safely—Madison was adamant that no escort is required for a woman to have adventures.
"You don't need a boy to take you to see the whole world," she declares.
Amen, little one.
The adorable clip reportedly received more than 30,000 likes and 1,600 comments in a single day, including shoutouts from Oprah Magazine, Dear White People actress Logan Browning and world traveler Jessica Nabongo. The likes have nearly doubled since, the post even garnering a mention during the third hour of Monday's Today Show.
But Madison's not the only one taking issue with the reboot; as the New York Times points out, historically, the biggest issues in Disney's original rendering of Aladdin were cultural. But the trope that requires Jasmine discover "A Whole New World" courtesy of faux prince Aladdin simply hasn't aged well—especially considering the over-50 percent uptick in interest in "solo female travel" in recent years, according to TrekkBlog.

"I won't be silenced/You can't keep me quiet/Won't tremble when you try it/All I know is I won't go speechless," Jasmine sings in the remake. In reality, we won't stay home waiting to be whisked away on a dream vacation, either.
"I've visited 64 of my 172 countries by myself! Who needs a boy!!!" Nabongo commented on Madison's post.
And if the irrepressibly cute "InstaKid" looks familiar, it's because she also went viral last year, due to another Disney heroine. Showing off her Princess Tiana doll, Madison made a great case for continued diversity in the princess-making franchise, saying "I love her so much, because she has chocolate skin, like me."
So, is Madison the wokest 4-year-old around, or the product of some very savvy parenting? Likely, some combination of both, but as Madison tells her mother in a subsequent clip, "Mommy, a princess doesn't need a [prince] to rescue her. She can rescue herself."
Madison, you're officially a princess we want to see go places.