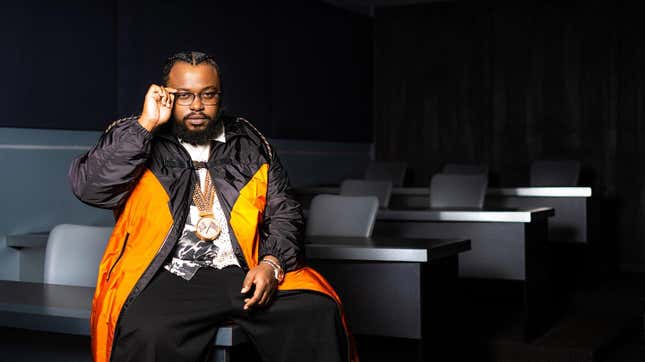 The education of young people is important and always has been. But oftentimes, what I think is missed is the education of young creatives. Artists, musicians, producers, etc. Just because they learn in a medium where they are encouraged to explore unique and different ideas, doesn't mean they don't need guidance and direction.
That's exactly what Grammy award-winning singer, songwriter and producer James Fauntleroy is offering at 1500 Sound Academy along with Grammy award-winning producer Larrance "Rance" Dopson.
Fauntleroy, who was born and raised in Los Angeles, has enjoyed major success in the music industry, working with some of the most popular artists in the world including Beyoncé, Drake, Kendrick Lamar, J. Cole, Rihanna, SZA, A$AP Rocky and many more.
But after years of working with industry stars, Fauntleroy felt like now was the time to pass on the knowledge he's gained to the next generation of young artists and musicians.
"It was a cumulative realization," Fauntleroy told The Root. "I was having a conversation with a music executive and he was talking about the concept of selling products that match your real authentic brand. He was using Puff Daddy as an example. He was like, 'Sean John is worth $350 million and Ciroc is what makes him a billionaire. Those products work because you associate him with parties and fashion."
He continued, "After that conversation, I asked myself, 'What's my version of Circoc and Sean John?' It was education."
What is 1500 Sound Academy?
1500 Sound Academy is a music school based in Inglewood, Calif., that aspires to help nurture the next generation of music professionals in the Black community. It teaches courses in music production, songwriting, mixing, engineering, music business, business management, artist branding, TV, film and coding.
Along with providing students with a countless number of courses, the academy often has guest lectures from world-renowned artists such as Kendrick Lamar, Bruno Mars, Sean "Diddy" Combs, Master P, and Snoop Dogg.
"It's so important for anybody that has a dream to learn the process of dream chasing," said Fauntleroy. "How do I chase my dream? How do I sacrifice and when? This is what I've seen people struggle with in their careers thousands of times."
He continued, "That's why it's so important for Black people to get into 1500 Sound Academy and learn the language of music and the language of the music business, so you can communicate."
Importance of early music education
Although there are now more ways than ever for aspiring artists to get "put on," it doesn't mean that there should not be a growth and learning process for creatives, no matter how talented they are.
I know when I'm watching an interview with a huge artist and they're discussing their journey up to this point, they touch on how hard it was to break into the music industry or how they had a chance encounter with an artist they looked up to or how they were performing in front of small crowds for years before they were discovered by the right executive. Those stories are all fine and dandy, but they are one in a million. The chances that something like that happens to your everyday aspiring artist are slim to none.
Fauntleroy is providing tools for students who normally don't receive them to chase their dream in a safe environment. Taking chances in a place where it's okay to make mistakes.
Even now, in all his success, Fauntleroy still thinks about how much farther he could've taken his music career if he had something like 1500 Sound Academy in his life.

"For me, I had the typical music business experience coming in," said Fauntleroy. "I was endlessly getting fucked over 7,000 times a day."
He now asks himself, "As far as I am now how much farther could I have gone without having to go through all these obstacles? The goal is for the students to start in a further spot on their timeline than I did."