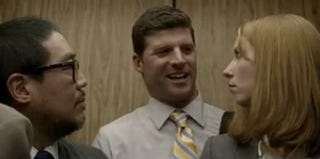 Jamaican accent the Super Bowl's first ad controversy? In this Volkswagen spot, a man from Minnesota takes on a Jamaican accent. The New York Times' Charles Blow called it "like blackface with voices." Today-show "ad expert" Barbara Lippert said, "This is so racist." VW responded that the company spoke to 100 Jamaicans who said it was fine. Discussion over? Probably not. 
Man ordered to stop procreating: That was the judge's order, on top of five years of back child support.  If Asim Taylor impregnates another woman during a five-year time period, he could face a year behind bars.
Cory Booker engages in Twitter feud: It all started after a Star-Ledger article referred to the Newark, N.J., mayor's gun-control stance as "centrist."
The week's hottest music: Check out Ebony's picks, from Charlie Wilson and Keith Sweat to Alicia Keys.