There are many things in life that people bounce back from. The loss of a job, the end of a relationship, a short illness, a sports-related injury and a bad first date are all things you can rebound from—given enough time. You know what you don't rebound from? Oprah excommunicating you.
And this is why I present to you this eulogy for one Russell Wendell Simmons: hip-hop mogul; Phat Farm, Def Poetry Jam and Def Comedy Jam creator; yogi; and reportedly creeping fucking repeated sexual offender.
The publisher of Oprah's book The Wisdom of Sundays announced in response to a New York Times inquiry that Simmons' contributions to the tome had been dropped in light of accusations of sexual misconduct, including rape, from multiple women.
Wisdom is a spiritual-advice book that contains excerpts of conversations Oprah has had with her guests on Super Soul Sunday, an OWN series.
Flatiron Books spokeswoman Marlena Bittner told the Times that beginning in February, new editions of the book available in stores will not contain the passages with Simmons describing the impact of meditation on his life, soul, abundance and wealth.
G/O Media may get a commission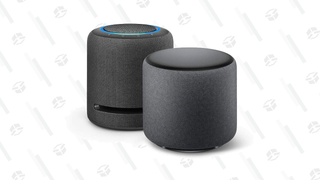 25% off - Prime Exclusive
Echo Studio + Echo Sub Bundle
Remember when he tried it with that #NotMe bullshit?
Oprah has been a very vocal supporter of the #MeToo movement as of late, and she is not going to align herself with someone who would derail and diminish the suffering of countless victims with a trifling-ass hashtag that probably isn't the truth anyway.

He tried it.
Simmons set himself out there, and Oprah came through with the silent but effective Celie curse for that ass.
Now that Oprah has excommunicated him, nothing in Simmons' life will ever go right again. Everything he even think about gon' fail.
You thought Mo'Nique was blacklisted? Tuh.
Think of all the shit Simmons is going to be blackballed out of now. No one is going to want to do business with him. He is basically karma poison at this point.
You may as well call him the O.J. Simpson of black people who actually know they are black.
No matter what he does in life, this will be the moment that defines him.
RIP, Russell. You brought that shit on yourself.