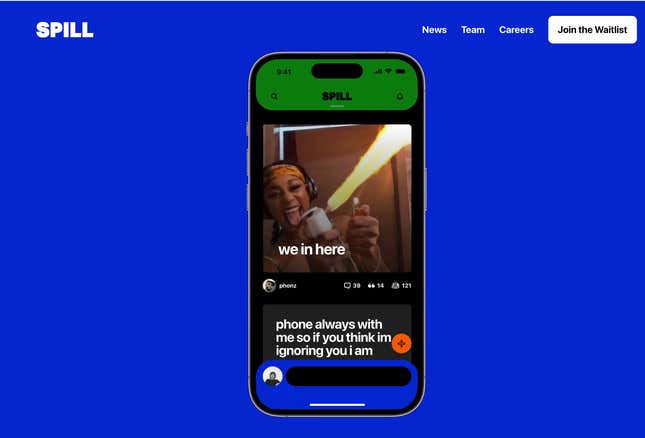 There's no denying the reign of social media mayhem that tech billionaire Elon Musk has brought since his deal to take over Twitter has been finalized. Although new rival apps like Mark Zuckerberg's Threads have now popped up to lure users off the app, it looks like longtime users may have just found a new, more inclusive app to call home: Spill.

Elon Musk Has Opened the Floodgates For Racists On Twitter
Created by two Black former Twitter employees—namely Alphonzo "Phonz" Terrell and DeVaris Brown—the invite-only beta live app is specifically geared toward the Black community, queer community and other marginalized groups. It's touted as a "visual conversation at the speed of culture," with an interface similar to Twitter, but not exactly. Posts are called "spills," likes are now a teacup emoji, users have the ability to quote and unquote spills, and timelines are separated between "Fresh Tea" (akin to a regular Twitter feed) and "My Brew" (which only shows tweets from the people you follow).
While Spill is just one of many looking to rival the sinking ship formerly known as Twitter, this app, in particular, saw an increase in users on its waiting list over the weekend thanks to Twitter's new rollout limiting how many tweets users could see on their feed. (It should go without saying that many were NOT happy about seeing the "rate limit exceeded" message on their timelines.) According to a statement from Twitter, the "extreme measure" was put in place to "ensure the authenticity of our user base" in an effort to "remove spam and bots from our platform." The bird app's CEO Linda Yaccarino stood behind the chaotic decision, saying in a statement of her own: "When you have a mission like Twitter—you need to make big moves to keep strengthening the platform. This work is meaningful and ongoing."
Nevertheless, tumult for Twitter turned into triumph for Spill, as the app welcomed 130,000 users in just three days and became the No. 1 app in Apple's App Store. In a video to users on Monday, Spill's co-creator Terrell thanked his team for working so hard to bring folks over and shouted out the new "Spillionaires" who've now joined the app.
"This is incredible, amazing and we know it's because you all have been sharing your [invite] codes and telling your friends about Spill. We see you," Terrell said. "But we also see it as validation of the vision we laid out seven months ago: that if you build for Black communities, for queer communities, and other marginalized groups that drive the most culture on platforms yet often get the most hate and are under-compensated and un-credited—that you would really build something super new, exciting, and unlock so much new potential in the social space that we maybe haven't seen before."
He continued, "So I want to take this moment to reiterate that no matter how Spill grows in the future, we are always going to have as our core mission to build for Black communities, queer communities and other marginalized groups. Period. End of story. And we believe again that will create a better platform for all but that will remain our mission. So with that again, just want to say we hear you, we see you. It's early days, we're working on getting these codes out, we're working on fixing the bugs, we're working on Android, all of that. But stay tuned for more."
As one of the 130,000 users who joined the Spill tea party over the weekend, I'd be lying if I didn't admit that the seemingly mass exodus from Twitter to Spill felt like another great migration of sorts (hyperbolic, yes I know but walk with me here). Tired of the chains of Elon's oppression and the seeking freedom of a safe platform that puts (and rewards) culture and the ones who drive it first, it feels like the potential dawning of a new social media era. And I, for one, am here for it. Because just like Issa Rae said: We're rooting for everybody Black.
You got this Spill, and we got y'all!