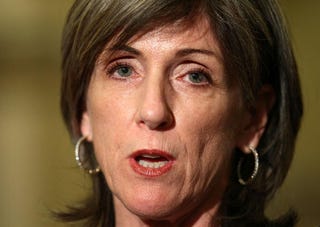 After two years, Obama's chief energy adviser, Carol Browner, is leaving the White House. Slate.com reports that Browner's role in the West Wing waned significantly after the administration's efforts to achieve comprehensive climate-change legislation went down in flames in 2009. Others suggest that Browner, who was former President Clinton's EPA chief, is being pushed out as part of the administration's attempt to have a more business-friendly image. Browner will depart her post as head of the Office of Energy and Climate Change in coming weeks, White House officials announced on Monday night. The administration has not yet decided when or if she will be replaced.
We're not sure why the West Wing is catering to the needs of big business, which literally drove the economy into the ground. We suppose the bailouts weren't enough of an olive branch to the business community. We're also not sure why clean air, emissions regulations and food safety negatively affect job creation. Another one bites the dust. We just hope this "makeover strategy" doesn't come back to bite President Obama in 2012.
Read more at our partner site Slate.com.
In other news: Jindal Draws Fire for Possible Plan to Merge HBCU, Other College.