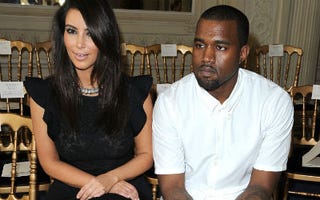 Radar Online is reporting today that Kanye West has asked a jeweler to create an engagement ring for girlfriend Kim Kardashian made from the personal jewelry collection of none other than his late mother, Donda. Why? Because he's finally found a woman he loves and respects as much as his mom.
Even those who still think this whole thing might just be a publicity stunt must admit — that sounds pretty serious:
The Gold Digger rapper is then planning to propose to the Keeping Up With The Kardashians star once her divorce from Kris Humphries is finalized.

"Kanye picked out some of Donda's most expensive pieces, including some diamond earrings and a ruby ring," a source close to Kanye tells Radar.

"He then gave them to a private jeweler friend to make Kim a one-of-a-kind engagement ring.

"Donda was such an important person in Kanye's life, he thought the world of her and was devastated when she died. So, he kept all her jewelry as keepsakes — a lot of the pieces were items he bought over the years after he made it as a hip-hop star.

"And now, Kanye has found a woman he respects and loves just as much as his mom, so he wants to share her jewelry collection with Kim."
Read more at Radar Online.