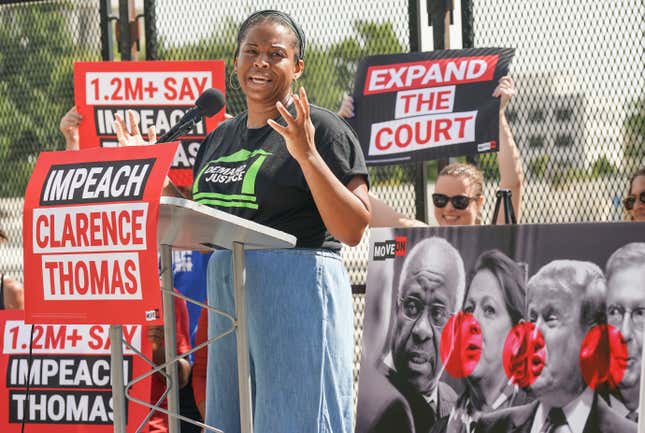 Supreme Court Justice Clarence Thomas has not been having a great Summer. Breaking ethics scandals have continued to rock the court for the last several months. But this latest reporting from ProPublica revealing even more gifts from Thomas' wealthy benefactors has us asking: What aspects of Thomas' life aren't bankrolled by billionaires?
"Too Black" or "Not Black Enough": W. Kamau Bell on the Politics of Black Identity
On a serious note, ProPublica reported that these billionaire benefactors gifted Thomas at least 38 destination vacations, 26 private jet flights, two resort stays, and multiple VIP passes to sporting events. The outlet estimates that these gifts were worth millions of dollars and that much of it went undisclosed.
This is hardly the first time Thomas' relationship with these billionaires has come under scrutiny. ProPublica revealed that Republican mega-donor Harlan Crow paid for Thomas' family member to go to private school and even purchased a house from the justice and his mother.
Some Democrats fed up with the whole mess, have begun to call for Thomas' resignation. "Unprecedented. Stunning. Disgusting. The height of hypocrisy to wear the robes of a #SCOTUS and take undisclosed gifts from billionaires who benefit from your decisions. 38 free vacations. Yachts. Luxury mansions. Skyboxes at events. Resign," wrote Representative Pramila Jayapal (WA-07) on Twitter.
Democrats Bill Pascrell (D-N.J), Gerry Connolly (D-Va.), and Hank Johnson (D-Ga.) have also called for Thomas' resignation. But the problem is there isn't anything these Representatives can do without the support of Congress.
Despite being arguably the most powerful branch of government, the Supreme Court has almost no ethics restrictions. And in our nation's history, only one Supreme Court justice has ever been impeached. But that was in the 1800s, and he was acquitted.
That's not to say ethics reform is a total lost cause. Progressive groups and legislators, including Congresswoman Ayanna Pressley, have been campaigning for reform. But at least with Republicans in control of the House, there's almost zero possibility of Congress passing ethics regulations this term.