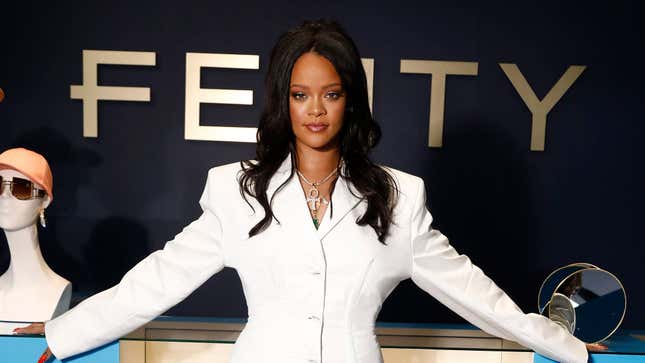 Fenty doesn't hit shelves until May 29, but understandably, everyone wants to own a piece of Rihanna's new fashion line. That said, realistically, not everyone can afford the luxury price point—which earned the multi-hyphenate mogul some flak in these internet streets for its lack of accessibility.

Fighting "Lie-abetes": How To Spot And Combat Disinformation and Conspiracies In Politics | The 411: Part 2
PopDust led the charge, with an article titled "The Classist Hypocrisy of Rihanna's New Luxury Clothing Line." After lauding the inclusivity of Rihanna's prior ventures and revisiting her recent interview with the New York Times, PopDust dugs into its (not-so-hot, in our opinion) take:
[T]he brand's claim to appeal to the modern woman is out of touch with reality. ... The Fenty brand baldly caters to modern wealthy women...

With America's income inequality matching levels seen prior to the Great Depression, luxury brands are hardly reflective of the typical, modern consumer. Rihanna's is no different. While it gestures to "disrupt" industries by challenging how size, race, and gender are represented, it's like most other high class brands, excluding the majority of American consumers who experience income scarcity. Rihanna's Fenty line is historic and, sure, even socially progressive, but it's still a classist endeavor that feeds the rich and uses the struggles of "today's woman" as a marketing tool.
Our read? That as the first black woman to break into the almost exclusively white bastion known as luxury fashion, Rihanna—herself a "modern wealthy woman"—was supposed to abandon the trappings of luxury in favor of providing access and comfort to all ... which kind of negates that whole "luxury" thing, no? (Not to mention echoes the expectations placed upon every black woman, in every space, always.)
To be clear: As much as we may want it to be, this is not "fashion for all," but there are plenty of other options in that realm. The disruption Rihanna presents by her entry into the luxury market is that we belong there, too; a point that seems to be missed by PopDust, and, as Buzzfeed noted, may be indicative of more than a little misogynoir.
And while we do wish Fenty was more size inclusive (it currently ranges up to a U.S. size 14), that too is consistent with the luxury fashion industry, albeit not as "disruptive" as Rih may claim she hopes her line will be. But in terms of the price point, perhaps no one could've said it better than the bad gal herself, who told the Times, "luxury couldn't be something that cost 30 bucks ... It has to be something more. The lower priced pieces are in there, too, and that was so important to me, but so was building a business based on quality. And real quality costs."

In other words, the real irony here is the entitlement of folks who expect her to sacrifice her earned cachet for their budgets.
But in other inclusive fashion news, on Tuesday, Universal Standard became the most inclusive label in the fashion industry, announcing that its size range across the brand now encompasses sizes 00-40.
Universal Standard deserves credit for doing what the fashion industry has long claimed to be impossible: taking an egalitarian approach to fashion, creating high-quality clothing sized to fit a range of silhouettes without marginalizing or sacrificing style. The brand is even enhancing the often fraught retail experience by launching "See It In Your Size," a web tool that allows online shoppers to see how each product will look, relative to their body type. Most importantly, it takes the decision on what plus size women, in particular, wear out of the often exclusive dictates of the fashion industry, and back into their own.
But before you pull out the trophies, consider the fact that Universal Standard also isn't universally priced for all. While not a luxury brand, the masses experiencing the "income scarcity" PopDust eagerly points out, its approximately $40 to $240 price point may be just as prohibitive as a Fenty item.
Does this mean we don't celebrate the effort? Of course not. We can recognize that fashion has a long way to go without needing to denigrate those making strides. No, we can't afford Fenty either, but we damned sure will be applauding when it drops on May 29, because it means more black and brown faces are taking seats at the table. Likewise, when we splurge on a Universal Standard capsule wardrobe, we're going to both revel in the quality and appreciate not being relegated to the plus section in the corner (or basement) or plied with subpar goods.
Luxury fashion (hell, fashion, in general) was never meant to be for the masses or the marginalized. So, for those of us who choose to participate, let's pick our battles (and spend our money) a little more wisely, shall we?