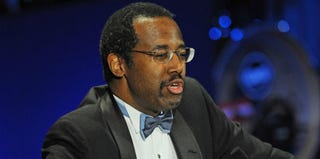 The Conservative Political Action Conference, or CPAC, is under way in Washington, D.C. It's the first annual gathering since the Republican Party's big election wake-up call about its relationship with nonwhite Americans, and the conference theme is "America's Future: The Next Generation of Conservatives. New Challenges, Timeless Principles." 
So who exactly will be in that next generation?
According to the Washington Post's list of the five major plotlines to watch at the CPAC, African-American neurosurgeon Ben Carson — who's been unapologetic about criticizing President Obama, even when he's sitting at the same table with him — is a character to keep an eye on. We've heard him speak, and he likely won't deliver Herman Cain-level black conservative antics, but for Republicans looking for diverse rising stars, that could be a good thing.
From the Post:
Ben Carson's entree: The mainstream media have been somewhat slow to pick up on the Maryland doctor's rising star in the conservative movement (and potentially, by extension, in the GOP). Ever since his speech at last month's National Prayer Breakfast, in which he criticized President Obama with Obama sitting only several feet away at the head table, Carson has been a celebrity in the conservative media.

Rest assured that Carson will be among the most anticipated speakers among the conservative faithful. And we would bet that the media starts to pick up on that enthusiasm shortly after Carson appears on-stage on Saturday morning, which will be the first time many have heard him. 
Read more at the Washington Post.