An injured New London, Conn., police officer got a pleasant surprise to help him heal a little faster, as well as a pleasant reminder that his own acts of kindness have not been overlooked, WFSB reports.  
The surprise came in the form of a handwritten note taped to his door by 9-year-old Malik, in which the boy told Officer Anthony Nolan how sad he was because Nolan couldn't read to him anymore. 
"My mom says [you're] hurt. I'm sad because you can't read to me. I don't have a dad—only you read to me," the boy wrote in the note, explaining Nolan's importance in his life. "I really miss you and my sister is doing better [because] of you. Thanks [for] being like a dad for us. [I'm] happy when you read to us," the little boy wrote in marker on the piece of paper, which was signed "Malik and Tasha."  
"It was just odd, you know. Got it, read it, almost started crying," Nolan told the news station.
According to the station, Nolan met the young boy about two years ago at the area's Ocean Beach when Malik and a friend were upset because a book they had with them had gotten wet. 
G/O Media may get a commission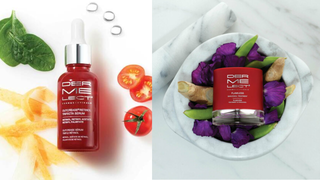 Save $19
Retinol Renewal Kit
"I told them I got a book that was similar to the one they have; didn't know what kind of book it was," Nolan said. "It ended up … being about not having parents. One of those 'gulp' moments."
Since then, Nolan has been reading to Malik and his sister on a weekly or biweekly basis, according to the Huffington Post, often wearing funny accessories, and has developed a relationship with them. About two weeks ago, he injured his knee after losing his footing at work.

"They let me know what it means to them not to see me, which made me feel a lot better. It was like one of those healing moments," Nolan said. "Even though you're sick, you feel healed.
"Talk about fighting tears," the officer wrote in the Facebook post, accompanied by a photo of the letter. "Can't tell me this is not the best. … Love those kids."
The thoughtful kids even taped some money to the note, letting Nolan know it was for "coffee" so that he could "get better." Malik even said that he'd be sure to have a chat with the boss at the police station to make sure that Nolan didn't "work in danger cause that's best for you." 
Talk about cute! 
Read more at WFSB and the Huffington Post.