A Terre Haute, Ind., mother is suing an elementary school principal and teacher for forcing her son to participate in the Pledge of Allegiance.
In March, Jamie Porter's first-grade son at Fuqua Elementary School did not stand to salute the flag, and his teacher, Kelly McFarland, sent the student to the principal's office, according to Tribstar News.
When asked why he didn't salute the flag, according to the lawsuit, the child stated that "he was doing it to protest the government of the United States, as it was racist, greedy and does not care about people."
And that's when the principal, Mary Beth Harris, should have said, "You're right; go back to class." But, of course, that didn't happen. Later that day, the student was removed from lunch by Harris and was forced to practice the pledge.
"He was later required by Harris to recite the pledge with her. This is a flagrant denial of A.B.'s rights under the First Amendment and he requests his damages, both compensatory and punitive," the lawsuit says.
G/O Media may get a commission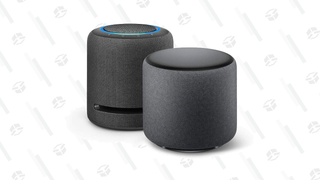 25% off - Prime Exclusive
Echo Studio + Echo Sub Bundle
The lawsuit states that the little boy sat quietly in his seat and did not cause a disruption when he refused to stand for the pledge, and the child, who recently was in therapy for the death of his father, "remains extremely upset about going to school. He has always felt that he was an outsider and this, compounded by his father's death, makes these feelings even worse. He is suffering continuing anxiety and harm because of this incident."
The American Civil Liberties Union of Indiana is representing the family, and the lawsuit goes on to state that Porter is requesting a jury trial and is seeking compensatory and punitive damages, as well as attorney fees.
Read more at Tribstar News.