Denmark just got its first public monument to a black woman, and what a phenomenal woman she was.
On Saturday, two artists revealed a 23-foot statue inspired by Mary Thomas, a Caribbean woman who led a fiery 19th-century revolt against Danish colonial rule.
Seated on a wicker throne, the statue stares solemnly ahead, her head crowned in a head wrap, her feet bare, a torch in her left hand, a tool used to cut sugar cane in her right.
As the New York Times reports, Thomas was one of "the three queens"—female leaders who led the 1878 "Fireburn" uprising in St. Croix. The rebellion has been called "the largest labor revolt in Danish colonial history," the Times writes, and by the time Fireburn finished, 50 plantations and most of Frederiksted, St. Croix, had been destroyed by fire.
Not surprisingly, the statue, called "I Am Queen Mary," was built by two black female artists: Jeannette Ehlers of Denmark and La Vaughn Belle of the Virgin Islands. In a statement, the artists noted that the torch and the West Indian cane bill (the sugarcane cutting tool) that Mary holds symbolize "resistance strategies" of the enslaved and former slaves who lived and toiled in Danish colonies.
G/O Media may get a commission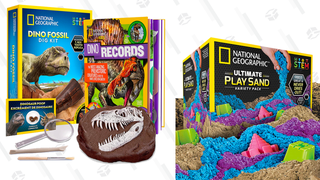 Up to 33% off
National Geographic Science and Activity Kits
The artists also confirmed that the throne upon which Mary sits "recalls the iconic 1967 photograph of Huey P. Newton, founder of the Black Panther Party."
Queen Mary, its creators say, isn't just the first monument to a black woman in Denmark, but the first to memorialize the country's colonial impact in the Caribbean and pay tribute to those who bravely fought against it. On the official I Am Queen Mary site, a description of the statue indicates that the monument aims to "[challenge] Denmark's role in slavery and the commemoration of its colonial past." Its unveiling was timed to coincide with the end of the 100th anniversary of Denmark selling the Virgin Islands to the U.S. in March 1917.
Even more notable, Ehlers says the sculpture wasn't commissioned—its fruition is the result, she says, of two artists "pushing into the public space."
The statue represents a bridge between the Caribbean and Denmark, said Belle: "It's a hybrid of our bodies, nations and narratives. It extends the conversation beyond the centennial year and gets people to really question what is their relationship to this history."
As for the real-life Mary Thomas, she and the other "queens" (Queen Agnes and Queen Mathilda) were tried for their part in the Fireburn rebellion and sent to Copenhagen to complete their sentences. The statue dedicated to Mary now sits in front of a former warehouse for Caribbean sugar and rum, little more than a mile from where the women were jailed.

As Henrik Holm, senior research curator at Denmark's National Gallery of Art, said in a statement: "It takes a statue like this to make forgetting less easy. It takes a monument like this to fight against the silence, neglect, repression and hatred."
Holm noted that never before had a statue like this existed on Danish soil. "Now, Denmark is offered a sculpture that addresses the past. But it is also an artwork for the future."