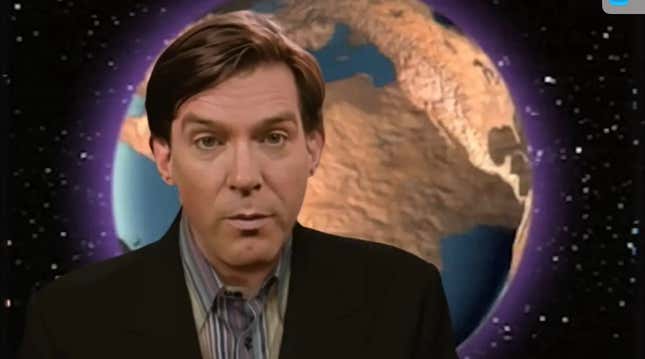 For Gen X, in the 1990s, there was one crucial place to get the most important news of the day: MTV. If you're only familiar with current day MTV, I know that sounds crazy. But once upon a time, MTV News was the place for unbiased, reasonable stories on issues that young people were genuinely concerned about. Kurt Loder was Gen X's Walter Cronkite. He's the one who told us about Kurt Cobain, Notorious B.I.G. and Tupac Shakur's deaths. "Choose or Lose" demanded that we pay attention to politics. Loder; John Norris; Tabitha Soren; Alison Stewart; SuChin Pak; Sway Calloway; and Chris Connelly gave us a diverse news team long before it was the trendy way to get viewers. These correspondents didn't talk down to their young audience, they informed us about important issues and made it easy for us to understand why we should care.
Godfather of Harlem (Season 3) Is Our TV Pick This Week
No Fake News:
The facts weren't skewed in one specific direction, they were presented in a simple, yet interesting way. Paramount Media Networks, Showtime and MTV Entertainment Studios' announcement that it's cutting 25 percent of its staff signals the end of an influential era for an entire generation, as MTV News will shut down.

Those people who are doing everything they can to change this dumpster fire of a world we currently live in, took their first steps into activism thanks to MTV News. It started with Loder hosting The Week in Rock, but as the network and its programming evolved, so did its news division. As it became clear that politics was something the network could no longer avoid, MTV made sure to set itself apart from mainstream outlets by specifically tackling issues that its young audience cared about. Climate change, the environment, poverty, gender identity, sexuality and race were all prominently featured before the rest of the media world caught up.
Biggie and Tupac Got Their Flowers
When Biggie and Tupac died, MTV had the most balanced and humane coverage. The correspondents knew that these were real people who their audience idolized, so they treated them as more than just rappers who got caught up in a violent beef that went too far. They were Christopher Wallace and Tupac Shakur, young Black men who left behind grieving families and fans. For MTV's audience, it was about their lives and legacies, not their deaths.
Goodbye Boring News
Personally, it showed me that journalism didn't have to be this stuffy medium that only allowed old white men to have a voice. This is the first place I learned I could be a journalist and be myself. Great as they were at their jobs, Tom Brokaw, Dan Rather and Peter Jennings weren't speaking to me and didn't know what mattered to my generation. This is why Bill Clinton, Barack Obama and Hillary Clinton all made a point of doing MTV News specials during their presidential campaigns. The network had a fanbase that couldn't be ignored and pushed aside.
I'm clearly not the only person who is a little emotional about the end of this era, as social media was flooded with people recognizing its importance and lamenting its demise.
Over the last decade, the outlet found it increasingly more difficult to find a real foothold in the new evolving media landscape. It's no longer the only way for young people to get news. In fact, many of those same young people are now using social media to report the news themselves. It's truly sad to see something like MTV News shut down, but its impact and influence will be seen in the activists and journalists its cutting-edge reporting created.