Update: July 13, 2018, 4:26 p.m. EDT: Charlamagne's spokeswoman reached out again to clarify that the incident described in the 2015 podcast happened 20 years ago. "He told the story then, but this should reflect that this happened in the late '90s, 20 years ago," she said in an email to The Root.
Earlier:
After a 17-year-old rape allegation resurfaced against popular radio host, Charlamange Tha God, an old clip of Charlamagne (born Lenard Larry McKelvey) talking about the incident with DJ Akademics began circulating again on social media. In the 2013 interview, McKelvey denies he ever slept with Jessica Reid, the woman who's accused him of raping her in South Carolina when she was just 15 years old (McKelvey was 22).
McKelvey did admit to hosting the party where she was allegedly raped.
G/O Media may get a commission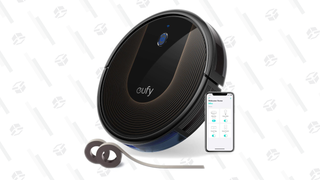 48% Off
Eufy BoostIQ RoboVac
Now, another old Charlamagne recording has resurfaced, this one from 2015, in which McKelvey describes a separate incident involving another woman. In the exchange, which was recorded on the Brilliant Idiots podcast, McKelvey recounts giving a woman Spanish Fly and having sex with her while she was "wasted." McKelvey also insists the sex was consensual, though he admits that his partner did not remember the encounter and wasn't "coherent" at the time.
If the details as McKelvey lays them out in the podcast are true, the incident could be defined as rape, particularly if she wasn't aware that the substance was in her drink—something which isn't clear in McKelvey's initial story, and which "Brilliant Idiots" co-host Andrew Shultz alludes to when McKelvey described the encounter to him.
The podcast episode itself is dedicated to discussing rape culture as a whole. Despite being recorded just three years ago, the conversation hasn't aged well, with McKelvey and Shultz laughing throughout the discussion. During the podcast, McKelvey tells Shultz about a "scenario in Myrtle Beach, South Carolina."
"I got this girl real drunk, and I fu—we fucked," McKelvey says before Schultz cuts him off.
"Just that sentence sound a little fishy," Schultz interjects. "'I got her drunk.'"
McKelvey continues his story, detailing how he went to "the sex store" to get Spanish Fly, which he then put into both of their E&J drinks. Once the girl got drunk, McKelvey says he had sex with her, adding that "a lot of my boys" also tried to come in and have sex with the woman (he says he turned them away).
"Running a train on her, that's rape," McKelvey says, laughing.
The next morning, however, McKelvey says the girl had no recollection of their sexual encounter, asking him what happened the night before. When he told her they had sex, McKelvey says the girl told him, "'Well I'm just glad it was you.'"
"That's a huge compliment man," Shultz replied, sarcastically. "A girl says, 'At least you raped me.'"
McKelvey insists that it wasn't rape because he and the girl "had every intention of having sex" that night.
"So then why would you put the Spanish Fly [in her drink]?" Schultz asked.
"I was a freaky motherfucker. I'm still a freaky motherfucker," McKelvey responds.
"Was she passed out?" Schultz presses.
"She wasn't coherent, but she was up," McKelvey says, adding, "like when you're blacked out."

The incident McKelvey describes is separate from the one involving Reid, because he later describes the woman as being white (Reid is black).

A spokeswoman, speaking on behalf of Charlamagne says the story is taken "out of context":
Charlamagne and Andrew Schulz were actually discussing rape culture, which was a newer understanding at that time not usually discussed openly. All actions reflected upon during that conversation were consensual. Spanish Fly is not an illegal substance and at no point was it purchased or shared without consent.
She added that since the podcast aired three years ago, "Charlamagne has approached discussing rape culture in a radically different way," citing a 2017 episode of The Breakfast Club in which he discusses how men are raised in rape culture.
On Thursday, South Carolina Solicitor Scarlett A. Wilson announced that McKelvey's rape case would not be reopened because he and the state had already reached a plea agreement in the case.
As Billboard reports, in 2002, McKelvey pleaded guilty to contributing to the delinquency of a minor in return for the state dismissing the charge of criminal sexual conduct with a minor. Wilson made clear that the plea was negotiated because Reid, at the time, refused to cooperate with the prosecutor. In an interview with The Blast, Reid's mother, Joslyn, admits she prevented her daughter from cooperating to "protect her daughter from suffering."
"The prosecutor made this agreement because of the victim's absence and the lack of evidence available at the time. While the tools and technology of justice have evolved, in cases involving personal violence, the State must have the witness to prosecute," Wilson said in a statement. "Too often, the key witness will not come forward in support of criminal prosecution. Trying a tough case is no problem; trying an impossible case is not ethical."
A petition has been launched this week calling for iHeartMedia, the company that runs the popular radio talk show, The Breakfast Club, which McKelvey cohosts, to fire him.

(Updated 3/3/22 with new details)