If you are related to black people, there's a better-than-100 percent chance that somebody in your family has gone to at least one chitlin circuit play (but more likely several). My parents have been to multiple Tyler Perry plays, something I'm sad to say that I've never had the pleasure (?) of doing myself.
The chitlin circuit—loosely defined as the locations and venues in certain parts of the country, largely in the South, where black folks could safely perform when racial segregation was the epitome of that white shit—has maintained its place in the black lexicon for arts that tour and cater to black audiences, though the whites and other nonblacks do manage to shake it like a salt shaker into the audiences on occasion.
When I was in high school, I performed in several plays and always thought that I should hop on one of those tours of black plays that always involve somebody's man cheating on them and Jesus having to intervene. I think at this point I've missed my opportunity to really make a run, especially since all of the out-of-work actors and singers without a recent hit manage to take the starring roles.
For instance, Da Brat, whose most meaningful clip to date involves trying to convince us AND Bow Wow that he still has something to give to the world on Growing Up Hip Hop: Atlanta, is currently starring in the stage play Set It Off: Live on Stage, a recreation of the 1996 movie we all know and love starring Queen Latifah, Jada Pinkett, Vivica Fox and Kimberly Elise. If that doesn't tickle your fancy, Barbershop Live is also a play now, starring Mo'Nique, Bow Wow, A.J. Johnson and Allen Payne.
Then, of course, there are the plays you typically think about when thinking of the chitlin circuit. They have titles like Your Husband Is Cheating on Us; Mama, I Want to Sing; and LORD, What Did I Do to DESERVE This?—which is a title I just wrote down, assuming it had to be the name of a play, and sure enough, it is. And it took me back to those days of thinking about what plays I'd want to be in.
G/O Media may get a commission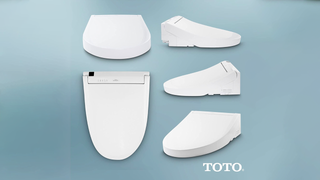 44% off
Toto Washlet Electronic Bidet Toilet Seat
I may never live out those dreams, but that doesn't mean I don't think about what could have been. I have created a running list of chitlin circuit gospel plays I wish existed so I could be part of them. Here is a portion of that list; in my mind, they always star Ginuwine, Ameriie, Carl Anthony Payne, Mr. Dalvin, Patti LaBelle and Lauren London.
1. Jesus, Be a Fence Made Out of Vinyl With Barbed Wire to Keep Out the Haters and the Hos With Cocaine
Kind of self-explanatory. Haters and hos with cocaine? Consider the black community over and done with.
2. Mama, I Told You He Ain't My Man—Let Me 'Lone. God Is My Husband
This play definitely takes place in Atlanta. Keshia Knight Pulliam can be a special guest on Tuesdays.
3. Your Husband Is Cheating on Us With My Husband and I Don't Know Who to Tell Except Demetria Lucas
I added the last part because in this day and age, there's nothing like a little bit of social media prowess to get butts in seats. This entire play is about the intersection of theory and practice at the meeting of socioeconomic status and race when somebody with a degree says, "Don't make me break out the Vaseline, honey."
4. Say Heffa Say What? Oh No She Didn't
Believe it or not, it's a play about a dancer who made it and then lost it all to gambling on Michael Vick footraces at strip clubs in Atlanta. It all changes when our dancer finds love in a hopeless place after finding a penny with a hole in it outside the Old Lady Gang restaurant because he was checking out the shoes of a bombshell aspiring pastor's wife, played by Meagan Good on select dates in Houston.
5. Lord, Jesus Done Helped Me See God the Almighty Holy Trinity, so I'm Going Back to Church Because These Hos Ain't Loyal
I mean ... yeah. It's a stage play about Chris Brown seeking redemption but struggling with his membership in a gang, and how that conflict leads him to the church house.
What about you? If you could create your own black stage play, what would you call it and who would be in it?