She's been a supermodel, a beauty industry entrepreneur and pioneer, a fashion designer, activist, mother, and wife and partner to a rock star. But the fashion industry icon known simply as Iman wants to remind us that she is also a refugee.
On Tuesday, the Somali-American beauty, born Zara Mohamed Abdulmajid, announced a new role: she is now the first-ever Global Advocate for leading global humanitarian organization CARE. As stated in a press release, the nonprofit organization "works around the world to fight poverty and achieve social justice by empowering women and girls," and created the new role specifically for the multi-hyphenate model.
"Iman has spent her life using her considerable talent as a model and entrepreneur to advocate on behalf of vulnerable people," said CARE President & CEO Michelle Nunn in a statement. "Similarly, throughout its 75-year history, CARE has worked tirelessly to improve the lives of the world's poorest. Together we can multiply our impact as [we]tackle global issues in our next 75 years. We are deeply honored to have Iman's support, trust, and voice as she joins our team in an official capacity."
"I believe steadfastly in the dignity of all people and know without a doubt that women are the key to ensuring a world in which everyone can live a life free from poverty, violence, discrimination and human rights violations," said Iman in the release. "The world's oldest and most persistent human challenges will require 21st-century solutions. CARE, which has been at the forefront of the fight to end poverty since World War II, is spearheading the innovation that will deliver bold and sustainable change. I'm excited to embark on this journey together, betting on women and girls to catalyze positive forward movement for everyone both globally and locally."
G/O Media may get a commission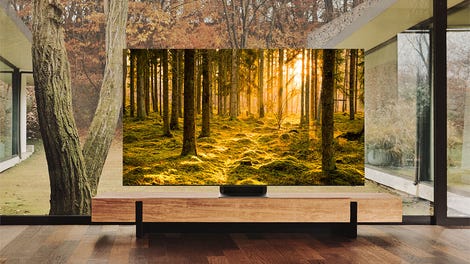 Up to 40% off
Samsung Smart TVs
Speaking with W magazine, Iman made it clear exactly how personal this mission is to her, explaining why her work with CARE will be a full-circle moment that began when she herself became a refugee during a period of political unrest in 1970s Somalia.
I knew about CARE, of course. And I knew they were very good at handling something I've experienced firsthand, because I am a refugee. I am the face of a refugee. I became a refugee in 1972, when there was a coup. My father, an ambassador, was in danger, so we decided to leave the country—to leave just with the clothes on our back. We ended up in Kenya. So here I was, on my own, never worked in my life outside of my family home. And then I met the angels that are NGOs...They're the ones who are really are on the ground helping refugees navigate through their new countries. They asked me what I could do, and I spoke three languages, so they found me a job as a translator. They put me through Nairobi University, they and helped me find me a place to live.
A teenager at the time, Iman told W she is now keenly aware of the fates that could've befallen her had she not had the support and protection of an organization like CARE.
"I was barely 16. So I'm very aware [of] what happens to girls and women when they're that vulnerable. The most important thing about young girls becoming refugees is that people take advantage of them, whether through sexual harassment or rape," she said, telling the magazine that her aim is to create "a global humanity."
"These aren't nameless, faceless people, and they aren't from far away. They're everywhere; it happens to every country. All that's unique is that there are more people fleeing nowadays," Iman continued. "I want people to understand that most refugees want to go back home. They don't want to stay in foreign countries where they're not wanted, where they've left their families. Nobody wants that, but they have no choice—there are circumstances that made them flee. I really want to put a face to it."
Her first plans as Global Advocate are to go "on the ground" in countries where the refugee crisis has reached a fever point, like the Congo and Syria, presumably to help lead efforts to build similar anti-poverty programs domestically, as stated in the release. Iman tells W she also hopes to make her host country, America—now her home country, as she's spent the better part of her 64 years as an American citizen—understand that refugees can be a gift, rather than a burden.
"Needless to say, America is made of immigrants and refugees—people who [have] hopes and dreams, who have talents and important contributions to make to their country, including their host country," she said. "I mean, look at me: America adopted me. I'm an American citizen. I have my own company. Everything I have now, I only have because I was shown dignity...refugees—they need to be seen. They need to be dignified and be seen as human beings."