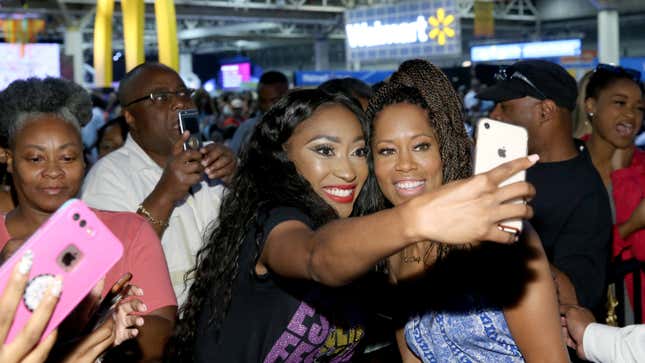 What makes a great party? No, I mean a really great party; the kind people look forward to, year after year. This Fourth of July weekend, we're going to find out; we're traveling to New Orleans to join our play cousins at Essence for the 25th-anniversary celebration of their legendary festival.
American Ninja Warrior: Season 15 Is Our TV Pick of The Week
While it's not The Root's first time covering the world's biggest #blackgirlmagic gathering, it is The Glow Up's, and as Essence Festival newbies on such a momentous year, we, of course, have questions. Namely, how did the event become an anticipated annual destination for tens of thousands of (primarily black women) guests, let alone some of the most famous names in entertainment and empowerment?
Thankfully, Michelle Ebanks, CEO of Essence Communications has the answers. Having joined Essence in 2001, Ebanks has been instrumental in helping to grow what was initially intended to be a singular event into an annual reunion so highly revered it inspired a hit film. Speaking with The Glow Up, she reminisced on the evolution of the festival, and how celebrating its 25th year is actually a full-circle moment.
As it turns out, the initial Essence Festival was a 25th anniversary celebration, too—that is, the 25th anniversary of the magazine so many of us grew up loving. Initially conceived as the Essence Music Festival, a one-time concert series in New Orleans with legendary festival producer George Wein (founder of the Newport Jazz Festival) at the helm, the event boasted one of its earliest supporters, Queen Latifah, as a host, as well as future Essence Fest favorite Mary J. Blige as one of its headliners. Also on the bill? Aaliyah, B.B. King, Gladys Knight, Patti Labelle, Earth, Wind & Fire, Anita Baker, and Luther Vandross, to name a few.
"It's important to note that Essence's founders and leaders 25 years ago were ahead of their time; the design of the festival itself was very innovative and bold," Ebanks explains. "At the end of the weekend, fans were leaving New Orleans saying, 'We'll be back next year.' And the Essence leadership thought to themselves, "Well, I guess we'll be back, too!"
Subsequent years would include keynote addresses from then-presidential candidate Barack Obama and queen of all media Oprah Winfrey, as well as performances from Diana Ross, Beyoncé, Rihanna, Mariah Carey, repeat headliner Janet Jackson and an "epic" 20th-anniversary appearance by Prince. But as Ebanks tells us, even in its earliest stages, then editor-in-chief and legendary thought leader Susan L. Taylor envisioned more than just a musical event.

"[She] knew that Essence couldn't just come to New Orleans and have a party," Ebanks says. In addition to the world-class entertainment that marks its evenings, the festival's daytime experience included curated empowerment programming—a groundbreaking concept at the time, which Ebanks says "has been foundational" to the evolution of the festival and its uniqueness.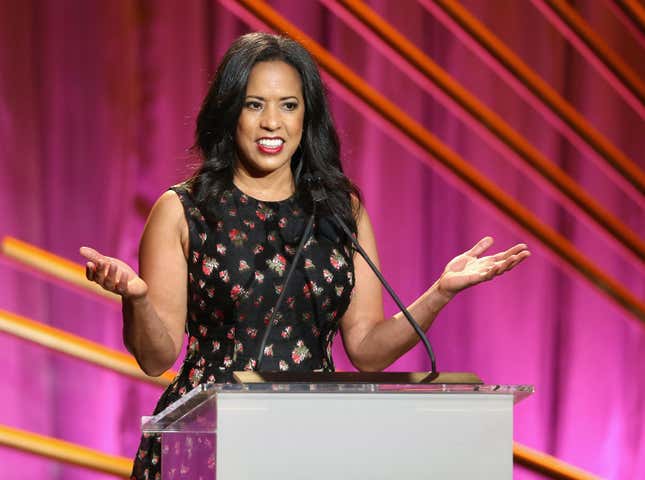 "Consistent with today, the festivals in the early 2000s were all so dynamic and exciting," Ebanks recalls. "The experience was so powerful, I was truly in awe and overwhelmed with emotion. It was clear even then that what the festival represents is 'home.' The festival is where we find comfort, but also the resources and connections that allow us to achieve our dreams."

That feeling of homecoming explains how the festival has grown to the annual #blackgirlmagic destination we know today—in large part due to the support of the festival's home of New Orleans, where the event has expanded well beyond the Louisiana Superdome to nearly 60 venues throughout the historic city.

"New Orleans embraced Essence from the beginning," says Ebanks, shouting out founding Mayor Marc Morial and the city's current and first female mayor, LaToya Cantrell, whom she says "remains an avid supporter and committed advocate for Essence."

But no event this huge happens without some major sponsorship muscle on board. Long before Nielsen was recognizing the magic (and buying power) of black women, longtime corporate partners like Coca-Cola, AT&T, Disney, Ford, State Farm and Walmart were not only making Essence Fest possible but creating immersive and engaging activations for its guests, as have McDonald's, Samsung and many, many more.

Ebanks says it's all part of the festival's consistently evolving experiential offerings, all of which are conceived to "maintain the Festival's founding spirit of innovation," she says.
"We wanted to stay true to its legacy—and continue to reimagine the experiences and expand," Ebanks adds, noting that expansion included dropping "Music" from the festival's name in 2013, a move she says "reflected our evolution from a music festival to what has become a global celebration of our magic and our culture."
"As a team, we are focused each year on creating excitement—adding surprise and delight moments that speak to what it means to be at the Festival," she continues. "Our community appreciates being together, and we aim to foster that unique feeling of community and sense of belonging for women who travel to the Essence Festival from all over the world."
What can attendees expect from the Essence Festival now? Something for everyone, from the sound of it—and thanks to real-time video content, streaming and social media partnerships, even those of us who can't make it down to NOLA can enjoy some of the inspiration Essence Fest has to offer. Along with daily empowerment activities and evening concerts, beauty and fashion enthusiasts (like yours truly) can get their hands on the goods at the Essence Beauty Carnival and first-ever Essence Fashion House. And the festival's famed entertainment platform has expanded to encourage black creatives with Entertainment All-Access, featuring dozens of exclusive film and television screenings, meet and greets, and cast talk-backs.
Notably, this year's festival will be kicked off by Essence Girls United youth programming, which includes the launch of the Girls United Giving Challenge, a four-day online giving event benefiting eight local organizations that lift up young girls in New Orleans and throughout Louisiana. Also new and on deck? A Wellness House has been added to address our beauty, inside and out. And with the inaugural Global Black Economic Forum, the festival continues to center cooperative economics and entrepreneurship, which includes the $100 million New Voices Fund for black female entrepreneurs, many of whom will once again participate in pitch competitions throughout the festival weekend.
Unbelievably, Ebanks tells us there's even more to look forward to this year.
"For our 25th anniversary, we are celebrating as a once-again 100 percent black-owned company," she says, pointing out an now-expanded leadership team that now includes Essence Ventures Founder & Chairman Richelieu Dennis (also co-founder of Shea Moisture), Essence Chief Operating Officer Joy Profet, Essence Chief Content and Creative Office Moana Luu and Essence Chief Digital Officer Darline Jean.
"And, we've undertaken our most significant transformation to date," she adds. "Throughout the weekend, we are serving many distinct communities within our overall festival community and tailoring our programming around specific interests and passions."
But all of it, Ebanks tells us, is fueled by the multitudes of women who have made the festival the phenomenon it is for a quarter century.
"What we observe is a community of women who are joyful and optimistic and who attend the Essence Festival to, as Susan L. Taylor once said so eloquently… 'see each other and be with each other,'" Ebanks muses.

"Today, the Essence woman is a leader, achiever, and influencer; both politically and economically," she adds. "She is driving the growth trends in business ownership and social activism and finds time to celebrate her beauty and embrace her culture. At the Essence Festival, we speak to her many passions…engaging her mind and her spirit."

Who better to engage the minds and spirits of black women than Michelle Obama? On the heels of her bestselling memoir and historic global tour, our forever first lady (and recent Essence cover star) will join the festival for the first time on July 6. "Like so many black women, she is he is coming home to Essence to celebrate her achievements," says Ebanks.
As this year commemorates not just one major milestone, but two, as the iconic magazine celebrates its 50th year in May of 2020, Ebanks envisions a future that harnesses the powerful legacy of Essence for an even greater collective good.
"For the Festival's 25th anniversary…and on the eve of our 50th year as a brand…we are not just celebrating where we are today but reaffirming how we have to progress as a community," she says, reminding us that remarkably, Essence Fest is both the country's largest consumer experience and the largest global celebration of black culture.
"My hopes for the future include creating a legacy that supports economic inclusion, investing in our culture and igniting ownership in our community," Ebanks assures us. "Essence will continue to invest in supporting black-owned businesses and creating opportunities for economic advancement and wealth creation for the next generation."