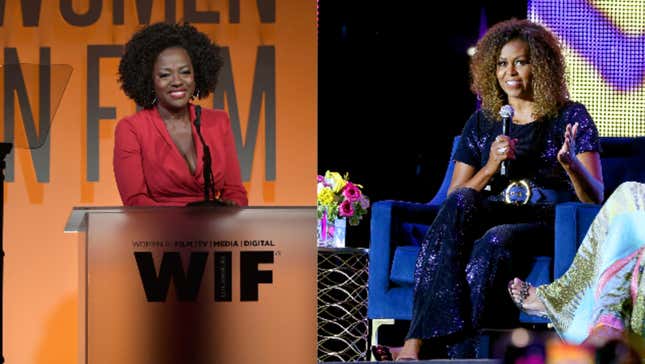 What do you get when you mix the Forever First Lady and the Forever Monologue Queen? Um, the best hour of television you'll ever set your eyes on, of course!
My Hip-Hop Story: Cedric The Entertainer On Jay-Z and His Indisputable Role In Shaping The Genre's Culture
According to Deadline, there's a one-hour drama in the works at Showtime centering around the lives of first ladies in the White House and Viola Davis is set to portray Forever FLOTUS, Michelle Obama. The drama, titled First Ladies, is written by Aaron Cooley (novels Four Seats: A Thriller of the Supreme Court, The Guns of Ridgewood), who will also serve as executive producer. The premium cable network has committed to three scripts so far.

Deadline breaks down the synopsis:

Written by Cooley, First Ladies is set in the East Wing of the White House, where many of history's most impactful and world-changing decisions have been hidden from view, made by America's charismatic, complex and dynamic first ladies. The series will peel back the curtain on the personal and political lives of our most enigmatic heroes, with Season 1 focusing on Eleanor Roosevelt, Betty Ford and Michelle Obama.

The idea for the series originated with Schulman, who was inspired by a spec script Cooley had written about Lady Bird Johnson. In line with the mission of Schulman's company Welle Entertainment, which is dedicated to making female facing content, the series will look at American history presidencies through a female lens — the first ladies.
The producer team will consist of Davis and Julius Tennon's JuVee Productions, Brad Kaplan, Cathy Schulman's Welle Entertainment and Jeff Gaspin's Gaspin Media. Lionsgate and Showtime will co-produce.

Davis will be beginning her sixth and final season of ABC's How to Get Away with Murder this fall, but she'll be lifting another kind of "guns" with this upcoming Showtime show. Yes, that's right, I'm talking about Obama's famously toned arms. Davis has that handled.
Though this is a totally different production team, I'm hoping there's a Shonda Rhimes-esque monologue where Obama delightfully rants about the Stale Cheeto-in-Chief while primping her hair in the mirror right before that dreadful inauguration day in 2017. It probably won't happen, but one can hope.